A new TimeSplitters coming after Crytek sell rights
Well this has been a long time coming...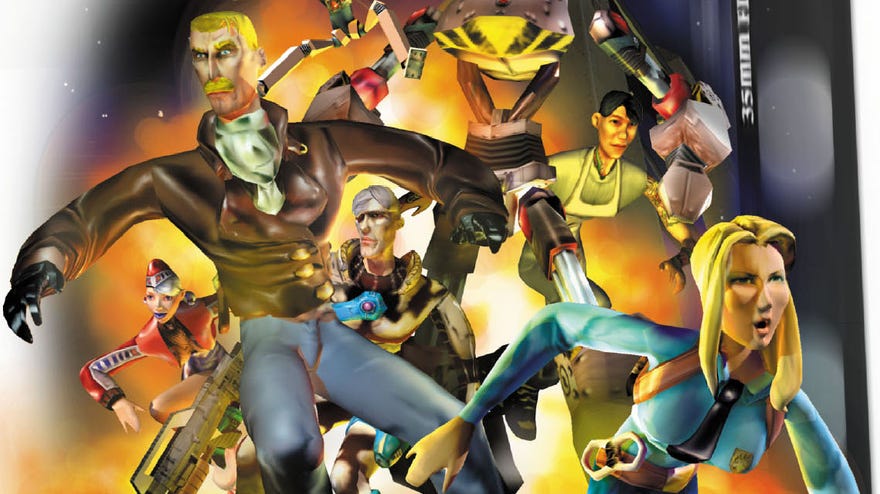 In their ongoing mission to own the world's largest collection of intellectual property rights to perfectly decent action games that make people nod and say "Yeah I liked that back in the day" when reminded of them, an arm of THQ Nordic has grabbed Free Radical Design's time-travelling FPS series TimeSplitters. Crytek had previously owned the TimeSplitters rights, picking them up along with the Free Radical in 2008. Well, Crytek sold the studio to Koch Media in 2014, and now Koch Media (who are now owned by THQ Nordic) have nabbed the rights and will have a TimeSplitters game made under their Deep Silver label.
Hey, you wanna meddle with time, you better get used to a few weird and confusing chains of name changes.
So! TimeSplitters is a first-person shooter series started in the year 2000 on PlayStation 2 then wandering onto other consoles in two sequels. Time-travelling aliens have made history wonky, so the games send players back to shoot them and sort everything out. That's the gist of it, anyway. On PC, it's perhaps best known through the fan game TimeSplitters Rewind.
Koch Media today announced they've bought the TimeSplitters rights off Crytek, and their Deep Silver label will publish a new game in the series. Crytek hadn't done much of anything with the series over the years, so it was nice they at least gave TimeSplitters Rewind their blessing.
"The original games gave fans a massive content offer and provided a pure and genuinely fun arcade shooter experience," Koch Media CEO Klemens Kundratitz said in today's announcement. "We have many fans of the TimeSplitters series among our own staff who are passionate about creating a product that will thrill today's gaming audience."
That's right: "a massive content offer".
Koch also picked up the rights to Free Radical's 2004 sneak-o-puzzler Second Sight, and intend to have Deep Silver publish a new one of those too.
The remains of Free Radical eventually ended up becoming Deep Silver Dambuster Studios, the folks behind Homefront: The Revolution. And of course Deep Silver and Koch Media are currently owned by THQ Nordic - who aren't THQ but do own the defunct American publisher's name and most of their games, having previously been known as Nordic Games and built largely built upon the scraps of JoWooD Entertainment. Ah this is doing my nut in, history is complicated enough without aliens mucking up the timeline. Aliens, outside.