Next For Grimrock: Map Editor, Some Form Of Expansion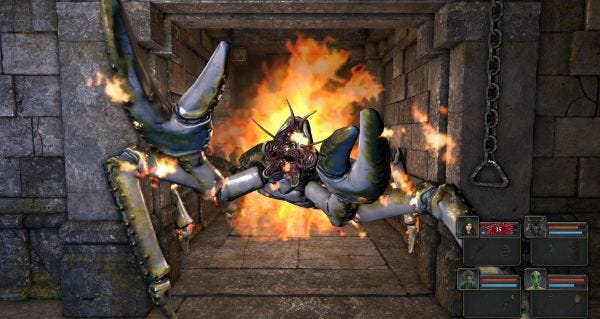 In our never-ending quest to be a one-stop shop for dads of John Walker the world over, we are utterly dedicated to fetching whatever news-flavored scraps may fall from Almost Human's table. Sometimes, it gets a bit weird - like when I was pretty sure mashed potatoes were news. Well, sure enough to take them, anyway. This time, though, I think I've come across a bit more of a sure bet. See, Legend of Grimrock will be getting some things in the future. New things, even!
Almost Human outlined the tough-as-nails, filled-with-snails dungeon crawler's immediate future in a blog post:
"First things first! The editor is still work in progress and it is starting to shape up well. We are almost in alpha stage now which means that we are just a few features short of being able to build Grimrock level dungeons with it. Please note that alpha is going to be an internal milestone for us and we are not going to do public testing on it, so no need to send applications for testing at this point, thank you!"

"What else is happening? Since the editor is mostly occupying my time, Olli, Juho and Antti have had time to do some preproduction for a new Grimrock related project. As explained above it's still undecided what this project is going to be, but some parameters are certain: we need more monsters and new environments, so that's what the guys have been up to. We already have a new themed wallset and two fearsome monsters in the pipeline. Personally I can't wait to get my hands dirty coding special features for the new assets and fighting those new beasts! It's going to be awesome!"
Which is refreshingly encouraging level of enthusiasm - especially from a team who was, before a brief break, "a bit exhausted with the whole concept of grid-based games after working so intensely for a year." Now, though, Almost Human sounds refreshed and recharged, which will hopefully lead to all manner of grotesque monsters, horrific traps, and very nearly abusive puzzles. Now if only I could devise a way to describe it that doesn't make me sound like a crazy person when I follow that up with "And it's really fun!"