En Garde! En Ligne! Nidhogg Improves Online Multiplayer
Stab strangers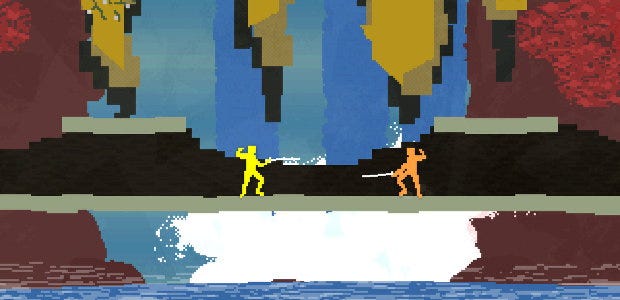 Nidhogg [official site] is one of the very finest local multiplayer games. The two-player swordfighting duel always drawn some of the biggest crowds at events I've helped run, delighting folks with desperate gambits and deathworm devourings even after it escaped the event scene and got a proper home release in 2014. That version also brought online multiplayer and... well, Nidhogg was not one of the very finest online multiplayer games.
It's in better shape now, though, as developers Messhof have worked with another programmer to improve its latency and desync issues. The fruit of their labour, a new patch, is now out.
"Rather than having a set frame delay on the inputs, the new system sets the delay based on your connection. Remember that a connection is only as fast as the slowest player!" creator Mark Essen said in yesterday's announcement. "Matchmaking has also been sped up a bit and various graphical bugs that could crash the game have been fixed."
Sounds like a fine patch, that one.
Nidhogg with only the latency of two controllers and the PC running it is a beautiful thing, full of ridiculous quick movements. The sword hurled just in time to catch a fleeing oponnent, the slide under a lunge, the perfect parry... I can't really imagine it with online latency. I'm glad it's been improved for folks who are into that, though. Still, do get some mates over.