Nioh hacks and slashes onto PC
Stabby Souslike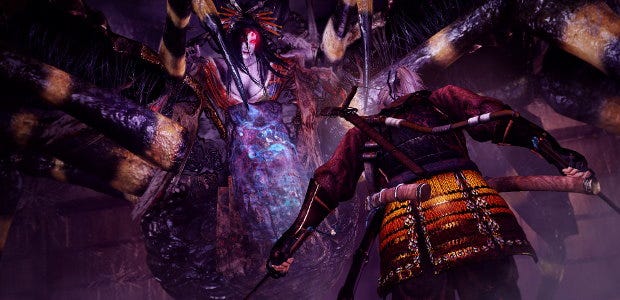 Team Ninja's action-RPG Nioh arrived on PC this morning, letting us join in the fun seven months after its PlayStation 4 debut. It's a fantasy bloodbath set around Sengoku-period Japan, cutting through monsters and demons from your classic big ol' ogreish oni through to stranger ones like the wanyūdō, a burning cart wheel with a man's head on the axle. Many often compare Nioh to Dark Souls, because it's a whole chuffing lot like Souls - though our Adam will argue it's going in a different direction. We have a review coming soon but, for now, here's a little teaser from Adam:
"It's unfair to compare Nioh to other RPGs though because it leans so heavily into that combat system that it really has more in common with Devil May Cry and the like than with even the action-heavy design of a Souls game. While it's not as kinetic as a pure character action game and not quite as stylish, Nioh is more in line with what I'd want from a modern Streets of Rage than anything else. It's a series of superb fights, book-ended by bosses of varying quality."
Do be aware that some initial player reviews are unhappy with the game's performance. We're currently giving its tyres a kick for our review.
Nioh: Complete Edition is out for £40 on Steam. It's called the Complete Edition because it's packing all the PS4 DLC as standard.