No Downside: Modder Remaking Descent In UE3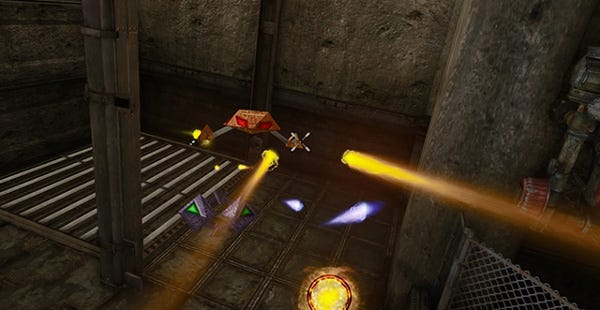 Remakes are strange creatures. They come in all manner of breeds - from timely and lovable to completely mystifying to completely mystifying until you actually see it and go, "OK, sure. That actually doesn't look half-bad" (Rise of the Triad). And then others, well, they're just confusing. Emotionally confusing. I think a brand new Descent Unreal Engine 3 remake from particularly intrepid modder, er, Max fits that bill pretty well. On one hand, Descent seems conspicuously absent from cyberfuture 2012's nostalgia-obsessed landscape, and this attempt at getting it back in its anti-grav groove looks quite nice. On the other, it does look and feel a bit odd seeing these topsy-turvy battles taking place in locations that my brain is now programmed to associate with tree-trunk-armed soldier men.
But then, that's a small quibble in the face of all this remake stands to bring to the table. Descent, after all, hasn't really had its torch taken up by a modern equivalent, and that's a damn shame seeing as its level design and six-degrees-of-freedom control scheme were so interesting. Max wants to replicate all of that - and more, if he has things his way. Here's what he's hoping to have in the final product:
A retelling of the original story
Remakes of the original levels, with an emphasis on a thriller/horror atmosphere
Remodeled and animated original robots with advanced AI
All the weapons from Descent with potential new ones mixed in
High-detail Pyro-GX ship model with 3D cockpit view
More diverse gameplay, but with a strong focus on the basics that made Descent great
Which seems basically insane for a one-man team. Fortunately, he's also more than willing to accept help, even going so far as to note that "there is no reason this could not become a Descent community project." Apparently, he's been flooded with emails about it, too, so things are looking up. Or down. Sideways? I need to lie down. Or up? Hgggggnnnrrrgggggghhhhh.