No Longer Silent: Ten Minutes Of The Witness
Bear witness to it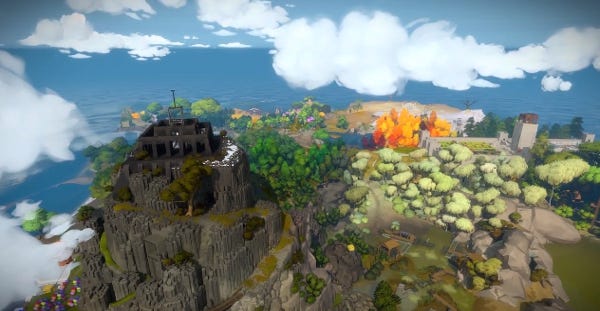 The Witness is Jonathan Blow's next game, so it makes sense that it be filled with brain-teasing puzzles. It makes a little less sense to me that those puzzles be mazes, which appear on screens littered around its colourful island environment. How do the screens and the world interact?
There's ten minutes of new footage below, as recorded by YouTube user NukemDukem at a preview event last November. It shows the game's opening and introductory puzzles, and it certainly looks interesting.
These are early puzzles, designed mainly to introduce you to the game's controls and concepts. Pretty quickly they start to build in complexity, and I can imagine them being satisfying to solve as they become more difficult.
It's not until the end of the video that Blow touches on the world these puzzles are set inside, and he mentions that you'll need to search the environment for clues in order to solve some of the harder challenges. I'm curious as to exactly how that'll work, as it seems key to making the world feel purposeful.
That said, if it was just the mazes accessed via a standard menu, I wouldn't be paying attention to the game. Maybe it's Myst; a beautiful world as packaging for the puzzles that lie within. Or given the recent addition of Rift support, maybe exploration of its world is your reward for solving puzzles. I certainly want to see more of the island's colourful flora.
Blow also says at the end that the game is due for release probably in the middle of 2014, and while its "console exclusive" to PlayStation 4, it'll likely launch on PC at the same time. Good! He also mentions it'll be 20-30 hours long, maybe longer, which means it's expanded considerably since Dan got his hands on it back in 2011.