No Man's Sky season of content & events to follow multiplayer
I always wanted you to go into space, man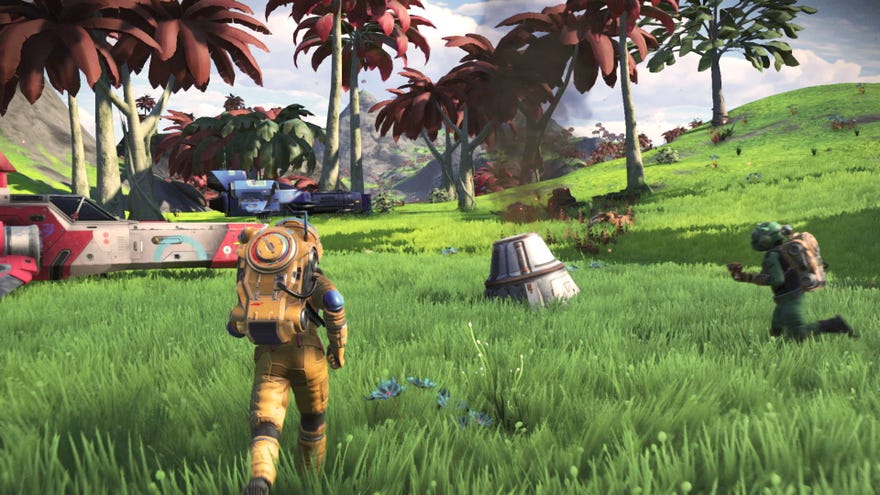 Proper fancy 'pootle around space with your spacepals' online multiplayer will arrive in No Man's Sky with the 'Next' update on Tuesday, we've known for a while, and I'm surprised to hear developers Hello Games already talking about what's next after Next. They have planned a season of "weekly content and community events" to start "a little while after" Next's launch, they say. They don't say more about what those plans are but coo, go on, more spacestuff, I'll take that.
"A little while after the release of No Man's Sky Next, Hello Games has planned its first season of weekly content and community events," is exactly what boss man Sean Murray said in today's post. "This will be free for all players, with no microtransactions."
I don't know if I'd read that to mean weekly content updates as much as weekly somethings, but I don't doubt Hello Games are certain they can deliver on whatever their plan is. They are cautious with declarations about the future now, given the bileful overreactions to anything involving No Man's Sky 'promises'.
Hello Games are also launching the Galactic Atlas, a website which will feature nice and interesting places submitted by No Man's Sky players. Could have called it Warp Advisor.
"Following Foundation, Pathfinder and Atlas Rises, we really want to include you, the community, more," Murray said. "We know that a million gamers played on the day we launched Atlas Rises. That everyone who bought Atlas Rises played for 45 hours on average and 90% rated it positively. We know that 20% of players hit over 100 hours, and 5% hit over 1000. We know that over 200 million hours of No Man's Sky have been played to date. It makes us happy, but desperate to communicate better."
Communication is a two-way street, mind. Murray has been chatting with that there games media recently, and I liked this with Waypoint about reactions to the initial launch:
"The reality is... a perspective that I've gained, I think, and gained in this first few months is [pause] the Internet is often really, really good at figuring out when someone's made a mistake, right? Or messed up in some way, done something that they would regret. [But] I don't necessarily think they're the best at deciding what appropriate action is or exact proportional reaction to take."
No kidding, huh?
The No Man's Sky Next update is due to launch tomorrow, Tuesday the 24th. I imagine some of our space cadets will blast off and find ways to die foolishly together. Along with multiplayer, the update will bring a polishing of planet generation and other prettybits, as well as features deeper in the guts such as commanding fleets of frigates.
Disclosure: our own Alec Meer wrote some words for No Man's Sky back in the day. Still not sure exactly what. Words? For a story thing. Y'know, words, the squiggly lines that would look like alien glyphs if we didn't know them.