No Man's Sky adding multiplayer in July
Hooray!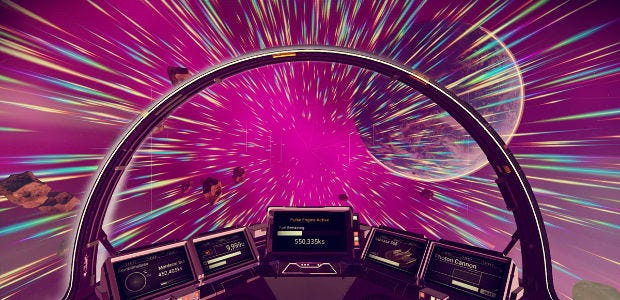 Colourful space explore-o-survival sandbox No Man's Sky will add multiplayer with the free 'Next' update in July, developers Hello Games announced today. Spacemen will get to explore together, wander together, pootle together, fly together, race together, battle together, build bases together, bump into each other around space, and even murder each other if they're feeling monstrous. Ah, time to dust off the ol' spaceship and round up some pals for an intergalactic nature hike.
"This is something that I wish we could have done sooner, but I'm so glad it's happening," Hello Games co-founder Sean Murray told Microsoft's Xbox Insider in a vidblast out today. "We've been playtesting it in the studio for the past six months, it's a really different experience. No Man's Sky can be a bit mysterious, a bit weird at times, and also sometimes a little bit lonely, because it's sci-fi and I love that side of right. This is very different. It's more Battlestar, it's Star Trek away team, it's fun and funny and emergent and kind of intense."
Hello Games plan to launch No Man's Sky's Next update on July 24th, alongside the game's Xbone release. I've little interest in the survival side of No Man's Sky but I certainly am up for wandering and exploring its pretty planets with pals, building bases in scenic spots, and chasing each other in spaceships. A vast galaxy of multiplayer walking simulators with wacky wildlife? I'll get my spacehiking boots.
If you've not played No Man's Sky in a fair while, do check out what Rich McCormick thought when he revisited it to see how updates have changed the game.
Disclosure: our own Alec Meer wrote some words for No Man's Sky earlier in development.