When Is No Man's Sky Coming Out?
Waiting for news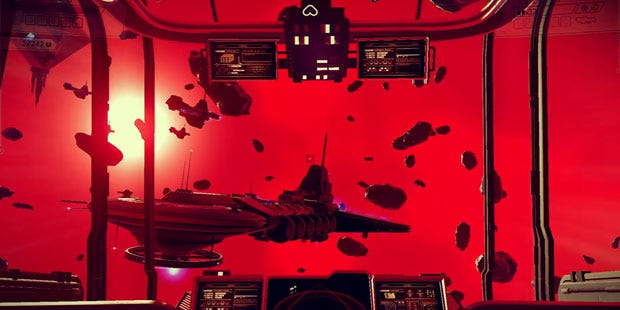 I'm loath to write another No Man's Sky [official site] release date story because those discussions have led to or fed into some particularly damaging and extreme responses. But I'm also part of a community which is curious to play the finished version (and part of the professional community who need to know timings for reviews) and see what the game is like. As such, the ongoing confusion about release dates is of interest. At the moment it's revolving around the "about" page on the NMS site which now states:
"No Man's Sky is a game about exploration and survival in an infinite procedurally generated galaxy, coming to PS4 on August 9th in North America and August 10th in Europe, and on PC worldwide on August 12th."
[If you're not interested in No Man's Sky LOOK AWAY. Reading on will only make you cross.]
For the UK that's actually the same release date as we've had pencilled into our diaries already. But for other regions that's where the confusion (and potential irritation) arises. Y'see, it was scheduled for 9 August in North America and 10 August for mainland Europe in line with the PS4 releases.
As far as I can tell, those dates are still being listed on several of the sites offering the game for sale. For example, the Humble page I have open says "Pre-order No Man's Sky now! Available August 9, 2016." (The Humble site is selling a Steam key so the implication here is that they're still going by the previous NA Steam release date).
There's also a chance the wording might actually mean "worldwide" as in "the other regions not stated" - i.e. I've seen it argued that perhaps all the previously announced dates hold true but that 12 August is when everyone who isn't in North America and Europe-besides-the-UK gets to visit space. It would be a weird turn of phrase but this whole thing is indistinct.
I've emailed Hello Games to see if they can offer a definitive statement about the release. Maybe they will, maybe they won't. If the game is still getting tweaks and things for the PC version perhaps they simply won't want to commit to a statement if there's a chance they might need to revise it yet again. If it's about a short exclusivity window they might not want to court the outrage that might bring.
Either way, it feels like the messaging around the game's release date has been an education in both how not to handle community communication and also an education in how not to respond to news of delays in some quarters of the fandom.
If/when we hear back we'll update this post with the confirmed dates. Otherwise, join us in waiting for the *coughcoughcough*th of August.