No Man's Sky helping with watercolour practice
A brush with gaming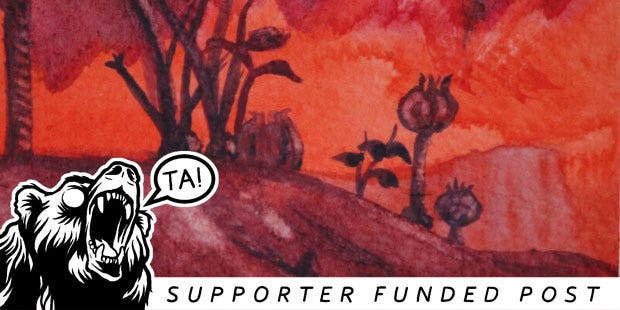 Recently I've been trying to relearn watercolour painting. I used to do it but then months and years and maybe a decade passed and now it's like when you try to do a cartwheel as an adult and realise those muscles could really do with some work. And so, exercises, and playing about with washes and with colour removal and different mark-making and all of that type of thing.
No Man's sky has been peculiarly useful over the last few days. I've been messing around with layering washes to create landscapes and, because of how the terrain and the environmental shaders work in No Man's Sky it basically works as a watercolour project generator where I have to figure out how to create and layer particular colour combinations. The next one on my list is an underwater scene where I'll need to layer a bunch of turquoises and teals to pick out the various receding wall layers of a submerged tunnel. Here are some of the things this project has generated so far. They're just sketches, but it's a use of No Man's Sky I didn't predict and has actually been really useful in getting my paint-memory back in shape:
Read the rest of this article with an RPS Premium subscription
To view this article you'll need to have a Premium subscription. Sign up today for access to more supporter-only articles, an ad-free reading experience, free gifts, and game discounts. Your support helps us create more great writing about PC games.
See more information