No-One Expects A 30 Minute Video Of Dragon Age Inquisition
Massed effects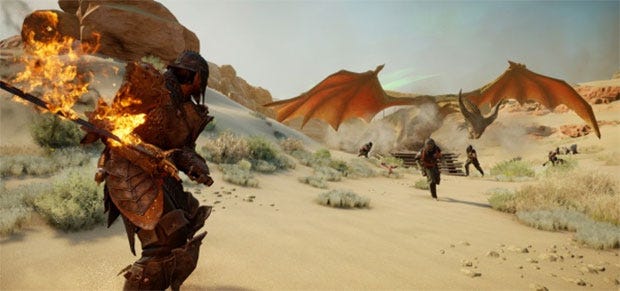 Quick, quick, before it's pulled!
Unless of course this is a clever marketing ruse, wherein giving the impression that this half-hour of in-game Dragon Age 3-ing is somehow illicitly-obtained makes everyone frantically watch every second of it. WE ARE BEING TRICKED DON'T WATCH THIS VIDEO WHATEVER YOU DO

This footage was captured at Finnish games expo, or so the story goes. We know the truth - it's Mike Laidlaw wildly waving his iPhone at his own monitor while someone runs a large and noisy fan in the background to simulate crowd noise.
Shaky cam funtimes means it probably doesn't afford a decent look at the graphics, but hopefully it's more helpful in terms of understanding how combat works.
HERE IS A SUGGESTION WHICH WILL NOT BEAR FRUIT: why not comment on what you think of Dragon Age Inquisition, rather than how you felt about Dragon Age 2? Honestly, everything's been said about that already.