Northgard adds boar clan and lays out floor plan
Sorry, am I boaring you?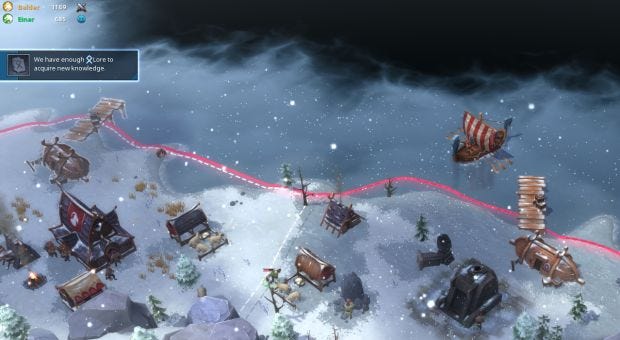 Yonder strategy Northgard has added a new clan to its longboat full of cartoonish Viking pillagers. Previous clans like the bear boys, introduced new warriors like a giant ursine killer with heavy armour plating on his furry back. The new clan of the Boar are a little less spectacular, but they are a hard-living and resistant lot. On top of this, developers Shiro Games have laid out a plan for future updates, including a single player campaign and better enemy AI.
Here's the rundown on the new clans specialities. Basically, they're rough and tough and they don't mind sleeping in the same haystack as four other clan members.
At first glance, these bonuses and the addition of a special Mender unit seem negligible next to large bears in kevlar. But shaking up the healer is a good move - it has always been a too-cushy role. In my games he is often found idling by his hut. I have to order him to pick up firewood or get mining just to keep him honest. But the Boar clan's Mender is a healer who automatically makes himself useful during his downtime by collecting lore (the game's currency for buying new skills and bonuses). This is a fruitful investment. Likewise, the fact your villagers will stay happy even in the most run-down accomodation is a deceptively helpful boost. In short, they have a lot of small-sounding but stout advantages. Here, you can read the patch notes in full.
As for the game's larger plans, the first four chapters of a single player campaign will be coming early next year, in which you'll play a young warchief who's out to stomp on all the other clans. So says their development road map. The game is heading for a full release in February or March 2018, they say, although they call that "an objective, not a certainty". After that, there are more features and updates planned, though they don't give any further details.
None of this is hugely explosive news, but Northgard is a stong game that does its job without fanfare. It's one of the best strategy games to come out this year - it's clean, crisp and competant, and you'd be a foolish RTS fan if you didn't have a go. But it's also a good entry point for those less familiar with the genre.