Not That Engineer: The Engineer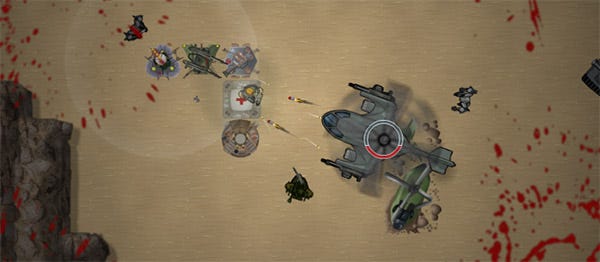 Throwaway, highly entertaining but with annoying music tower-ish defence-ish game time! The Engineer is not a TF2 fan-game as such, though I rather suspect there is at least some inspiration in there. It's most of the way towards tower defence, but errs a little towards the Orcs Must Die take on things - you're a mobile character with your own weapons, setting up death-gizmos in order to stay alive. But you cannot stop, not for a moment.

In fact, the only thing that's defended is you in your little yellow hat, by you and your little turrety friends. Dart around the place trying to hack terminals as an infinite swarm of robots marches towards you, collecting scrap and building new gun emplacements. It's familiar stuff, but you don't get a second to breathe - move,move,move all the while, with constant shooty-bang action on your part, optionally upgradeable if you'd rather turn yourself into the key force of destruction instead of pumping everything into turrets.
As I say, totally throwaway, plus the difficulty's all over the place, but it's a pretty fresh take on an oft-haggard mini-genre. Also, involves swearing at robots.