Notch Reveals Plans For After Minecraft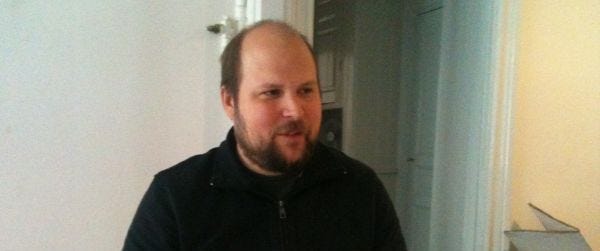 In a story appearing later today on Rock, Paper, Shotgun, Minecraft's creator, Markus 'Notch' Persson reveals that rather than developing Minecraft 2, he has three ideas for development once Minecraft is complete. With the blocky phenomenon intended to be finished by the end of 2011, and Scrolls being developed by others at Mojang, Persson's mind is already pondering the possibilities for what might come next. And with an unfailing need to say every secret he has out loud, he tells us how he wants to make a "nerdy" space trading simulator, a real-world town simulation game, and a fantasy version of Football Manager. No, really. Find out more in a truncated extract from our exclusive Day In The Life Of Mojang feature, below.
"I have many games in mind," says Persson. Does he know which will come next? "It keeps going back and forth. I'm really annoyed with how there are no space trading simulators at the moment. And the ones there have been always kind of miss the point. They're fun, but even Elite 2 which was a great game, wasn't really what I wanted. I really want to make that, but that's going to be lots of work, and be extremely nerdy, and probably won't sell very well. But hopefully I can convince other people here that they want to do it."
Well, there's our headline then: "Mojang's next game is a space trading simulator." But he's not done.
"And then I have this weird town simulation thing, which is basically a single character Sims. You're just one character in the town, just living. It wouldn't be a super-realistic city simulator. It would be my take on what real life is."
The headline I'm writing in my head starts to get a bit more convoluted. "Notch's next game is either a space trading sim, or a real-world calm city, experiencer." But it gets more complicated. I ask him if there's any more ideas.
"Er… yeah. I shouldn't probably say this because people might steal it, but what the hell. It's like a football manager, but it's for fantasy heroes. If you have a troll and a goblin in the same team, the troll might eat the goblin. Stuff like that."
You can read the rest of the exclusive feature, including the many more details about these planned games, along with many more secrets from Mojang, later today on this very site.