NSFW: Sexy Adventures On Porn Island Demo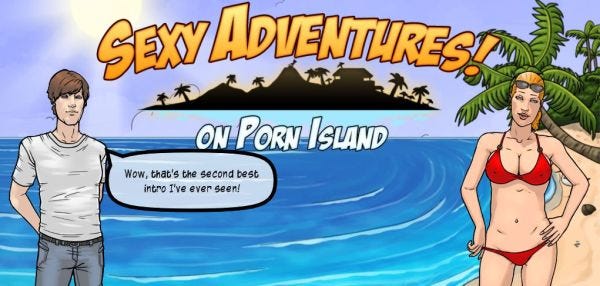 Oh dear, it's times like this I miss having Kieron around. A new demo shows up for a game called Sexy Adventures On Porn Island, and a Kieron-shaped gap appears in the dungeons of Castle Shotgun. But what to do? Quintin's too young to be allowed to play games like this. I'll have to turn my delicate eyes toward it, and find out what manner of filthy excitement is on offer. Oh, it's Tetris with fucking. Clearly this is not safe for work.
It's all remarkably tacky, there's no escaping that. Poorly drawn cartoon characters occupy an island filled with sets for porn films. The manner in which these movies are filmed is the traditional technique - lowering posed actors on top of one another from above, attempting to get their private parts and mouths to line up and tessellate. Once slotted together, their crude sex animations begin, and if the shagging takes place in columns lit by a film light, then they disappear off the bottom of the screen. You know, like in a porn film.
Oddly enough, the concept isn't so bad. An interesting twist on Tetris would be a version where the pieces can overlap in specific ways, letting you improvise new ways to clear rows. And that's exactly what this does. It's just when they overlap you watch a man and a lady doing a sex. Or if you switch the option on in the menu, a man and a man doing a sex. (Women go down on women by default. This says something about something.) So, as much as I want to mock this, they've got quite a good game mechanic.
However, to restore cosmic balance, it's all awfully presented. It's clunky and awkward, with weak drawings, and any notion of titillation is lost. Not just because it's all far too small and primitive to be able to be even vaguely interesting to look at, but more because the very purpose of the game is to get the bonking orgy mass to vanish as quickly as possible. Clearly this has never happened to me, but it's the gaming equivalent of those 1990s endless waves of porn windows that would open faster than you could close them when your mum was walking toward the room. Also, and this is a personal thing, it does start to feel a little gross as you mangle so many people together.
The demo lets you briefly play at one of three areas for each of three locations, the pirate set, up-town set, and sci-fi set. They are themed, such that the descending stars are dressed appropriately. The sci-fi set even has aliens appear, but sadly that's where the imagination appears to end - their genitals are located in the same place as the regular cast, which would seem an obvious twist.
In fact, much seems to lack imagination. You very quickly find yourself thinking (see how I use impersonal pronouns?), "Well *I* can see a way that this alignment would work." However, there's a few punning gags in here, a couple of references to Monkey Island, and it's certainly not taking itself seriously.
And it's called Sexy Adventures On Porn Island, and you've got to give it credit for that.