Have You Played... Nurikabe?
Grid-based entertainment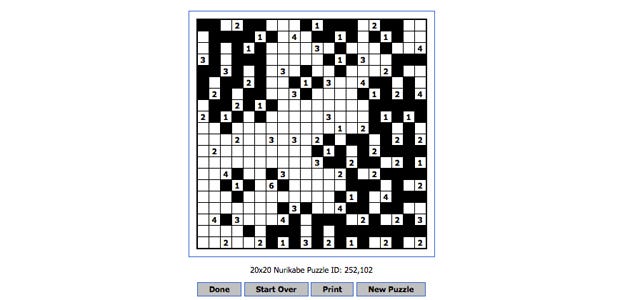 Have You Played? is an endless stream of game recommendations. One a day, every day of the year, perhaps for all time.
So this is Nurikabe. It's a logic puzzle where you click grid squares to create islands of white in a continuous seas of black. Some of the squares have numbers in and those numbers tell you how many connected squares (including that one) make up an island.
It's similar to Minesweeper but without that game's punishing spurts of guesswork.
I find myself playing it when stressed or when watching a TV show I know well enough that I don't need to concentrate fully while watching. It keeps my fingers busy and stops me from indulging insomniac worry spirals.
It feels like an odd one to recommend to a PC gaming audience somehow - like I'm saying "Have you played... the puzzle page of a newspaper?" But if you're looking for something to scratch a Picross-shaped itch (JOHN, CAN YOU HEAR ME?) this - or one of the many other sites which house versions of the puzzle) could well worm its way into your bookmarks bar.