Obsidian's Tyranny Coming November 10th
What's the worst that can happen?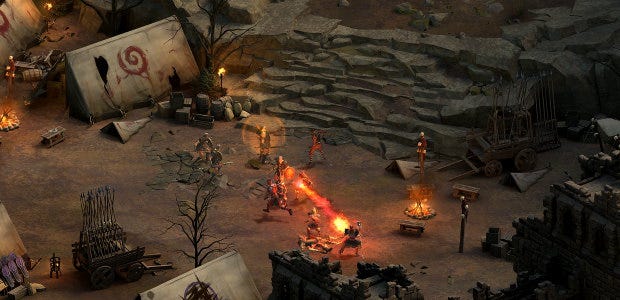 "I begin to find an idle and fond bondage in the oppression of aged Tyranny; who sways, not as it hath power, but as it is suffered," said WillzShakalaka in his preview of Tyranny [official site], "Come to me, that of this I may speak more."
Yeah yeah come on mate, enough with your New Games Journalism patter. Tell me if Obsidian's upcoming fantasy RPG is a good game or some sort of crime. How many spells does it have? What's in the options menu? Score out of ten? You're useless.
Here's how it's done, Shakespeare, with facts: Tyranny will come out on November 10th, publishers Paradox announced today. Booom. Lick my dust, Willz.
Tyranny, to refresh your memory, is a party-based RPG set in a fantasy world where evil reigns. Our Adam explained in his own preview:
"In your position of privilege in the new world order, you have an enormous amount of responsibility – you're carrying out big tasks for The Man and The Man is a Bad Man – but you're not being used as a tool to terrorise the factions and individuals you meet along the way. You're part of the post-conflict plan, switching between warrior, peacekeeper and diplomat as the situation dictates. The great promise of Tyranny's story is that it'll tell the high fantasy version of post-occupation blues, and in what I've seen there are some tricky decisions to be made about asserting control of populations and cultures in a power vacuum or the aftermath of brutality."
See, Shakespeare? Informative. Clear. Interesting. You should take notes.
Tyranny is made by Obsidian Entertainment, the gang behind Pillars of Eternity and Alpha Protocol.
November 10th is when Tyranny will arrive on Windows, Mac, and Linux. It'll run you £34.99/41,99€/$44.99.