Oculus Rift Update Prevents Playing Rift Games on Vive
Cyberscrap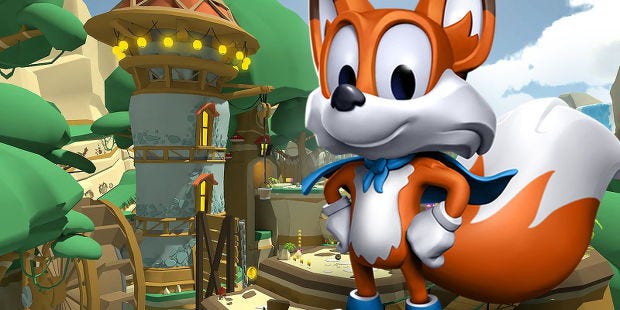 Last month, Alice reported on a hack that could let HTC Vive users sneak into the Oculus Rift party and play some of their exclusive games including Lucky's Tale and Oculus Dreamdeck. But last week Oculus rolled out a new update with "platform integrity checks" that had supposedly ended Vive's party crashing ways — until this weekend when the developer of Revive responded with an update of their own focused on bypassing that DRM.
The handy Revive functioned as a fancy translator that could intercept Oculus-specific functions and reimplement them to be understood by the OpenVR environment that HTC Vive supports. It only translated those functions, meaning that games purchased on the Rift still passed basic validation checks. But after this weekend's update, Revive is now a tool capable of piracy thanks to circumventing those authorization checks altogether.
"I really didn't want to go down this path," the update reads, "but I feel there is no other way."
Right now, the update only bypasses Oculus's DRM in games built using Unreal Engine, with Unity being added in a future update.
Oculus representatives were quick to condemn Revive last month, telling Gameindustry.biz that "users should expect that hacked games won't work indefinitely, as regular software updates to games, apps, and our platform are likely to break hacked software."
Last week they made good on that promise and tossed all the HTC Vive party crashers to the curb. In an interview with Motherboard, Revive creator 'LibreVR' explained that the update works by checking if there's an Oculus Rift connected to a PC when booting up a Rift exclusive game. Huh. That seems simple.
Oculus shed some light on the recent update in a statement to Gamasutra:
"Our latest software update included several new features, bug fixes and security upgrades, including an update to our entitlement check that we added to curb piracy and protect games and apps that developers have worked so hard to make."
Oculus's statement then goes on to clarify that "this update wasn't targeted at a specific hack," before reiterating that "we take the security, functionality and integrity of our system software very seriously and people should expect that hacked games won't work indefinitely as regular updates to content, apps and our platform may break the hacks."
Five months ago, Oculus VR founder Palmer Luckey took to a Reddit thread to say this: "If customers buy a game from us, I don't care if they mod it to run on whatever they want […] our goal is not to profit by locking people to only our hardware." But whether Luckey's statement is a contradiction with Oculus's official response isn't clear because of how tightly woven the fabric is between game and platform.
The developer behind Revive contends that "while this helps prevent piracy from people who didn't buy an Oculus Rift, it doesn't do anything to prevent piracy from those who did buy an Oculus Rift. And this clearly excludes anyone who bought the game, but didn't buy an Oculus Rift. Even if Revive wasn't targeted, they were probably more than aware of the collateral damage."
But all of that is moot now that Revive can be used to play pirated Rift games on OpenVR headsets, a move that the developer vindicates by affirming "I still do not support piracy, do not use this library for pirated copies."
Somehow I'm not convinced that's going to stop those who want to do just that. Either way, this is likely only the second volley in a continuing battle between Oculus and LibreVR. We'll have to wait to see what Oculus has to say in response to this latest development.