Of Life And Depth: Subnautica
Underwater exploration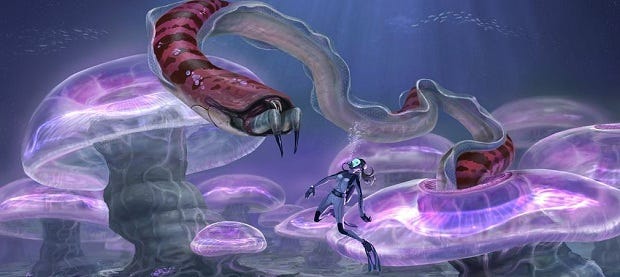 Unknown Worlds, the studio behind Natural Selection 2, have announced a new game in a genre that they "do not believe has yet been invented". Popping players in a customisable submarine, Subnautica will "combine elements of role playing, sandbox, exploration and cinematic games to create a unique experience". There aren't many details yet but there's a superficial (at least) resemblance to Hello Games' recently announced No Man's Sky, particularly when it comes to close encounters of the weird kind: "Interaction with impossibly diverse and fascinating creatures. Some of these creatures will be truly enormous, all of them will be unique." I've embedded a video below and Unknown Worlds promise open development, with early access some time next year, and frequent updates at their site.
Here's a brief overview and 'welcome' to the project.
The 'unique' nature of the creatures suggests some degree of procedural generation but the developers don't appear to be aiming for free-form underwater adventures.
The underwater environment will invite you to construct submarines and develop your equipment in order to reach its far flung and diverse corners. Decisions you make about vessel layout, capabilities and structure will affect your ability to navigate hazards and enter the domains of creatures; the likes of which your imagination has never conceived of.
Sounds like a challenge. I know a crew who are up to the task.