Of Ooos And Ahhhs: Of Orcs And Men Looks Quite Good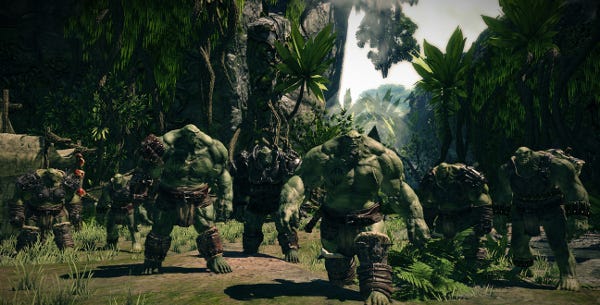 It's been more than a year since we last peeked into the Cyanide-and-Spiders-filled cauldron that's cooking up Of Orcs And Men, and that's a bit of a shame. If you ask me, it's looking rather promising - though information on combat, skills, etc is unfortunately scarce at the moment. But, at the very least, the central concept - humans are dumb jerks and you, an orc, must battle back against their oppressive, racism-steeped regime - sounds like it could provide the ingredients for a very special dish: a fantasy RPG that's actually unique. You'll find two impressive-looking trailers beyond the break, after which you are cordially invited to join me in heel-clicking-centric merriment and light discussion. There will, however, be no refreshments, because humans are jerks who don't deserve liquids.
Much like Cyanide's Game Of Thrones RPG, Of Orcs And Men looks to derive most of its moment-to-moment thrills from a two-character dynamic. This time, though, the heroes are a bit more... diverse.
"The game starts you in the role of an elite Orc warrior, deeply involved in the war against their persecutors, Humankind. You have been sent on a dangerous mission that could change the course of the war: kill the one responsible for all the bloodshed and mobilization of the human race to destroy the green-skinned people - the Emperor himself. Joining you in your mission is a Goblin, an assassin and master of stealth, who complements your Orc's brute strength in battle."
Both characters seem to be a bit more than traditional fantasy archetypes would suggest, though. The orc, Arkail, can switch between all-out, rage-powered Hulk offense and a more damage-spongey defensive stance. His goblin cohort, meanwhile, is better for stealth, poisoning, and infiltrating locations Arkail's a bit too much of an eight-foot-tall muscle mountain to reach.
It's set to storm our walls this September, so that's exciting. For now, though, I plan on taping a "No Humans Allowed" sign to my treefort. Because seriously? Ewwww.