Off with their heads! We the Revolution announced
Judge 'em up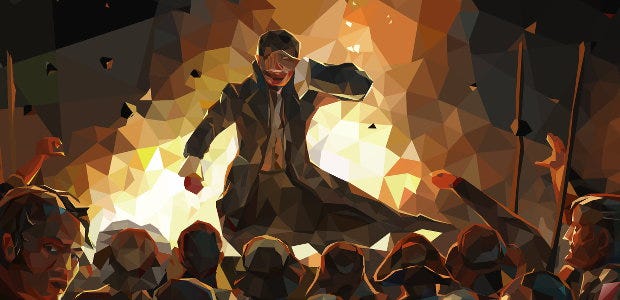 Being a low-level bureaucrat in an oppressive regime is actually a bit of a bummer, Papers, Please teaches. Who knew! Will having more power make it more fun? I'm guessing not by much. We'll see later this year in We the Revolution [official site], a newly announced serve 'em up where we'll get to play a judge of The Revolutionary Tribunal in Paris during the French Revolution. Developers Polyslash are a bit cagey for now about quite what form it takes but some of the ideas they're throwing around sound interesting.
The official blurb says:
"The player judges criminals and counter-revolutionaries, but also innocent Parisians. The Judge has to peruse case files, study evidence, and interrogate the defendants in a way that ensures either justice... or the player's profit. Each decision will have an impact on the factions in Paris, the player's family, or the player themselves. The game will reward clever decision-making, allowing the player to - for example - outwit and defeat more powerful enemies."
It also mentions having randomised elements so it's different each time.
Quite how does it work? No idea. With only artwork to go on, I couldn't begin to guess. Mysteries! But mysteries I'm interested to see solved. Playing with real history can be a tricky one but hey, we'll see.
We the Revolution is due some time this winter. Its makers, Polyslash, are a relatively new Polish studio whose first game was sci-fi survival horror Phantaruk [Steam page]. Officially the name of We the Revolution is stylised as 'We. the Revolution' but that's so silly we'll pretend it isn't and never mention that again.