Offworld Trading Co Comes On-World Later This Month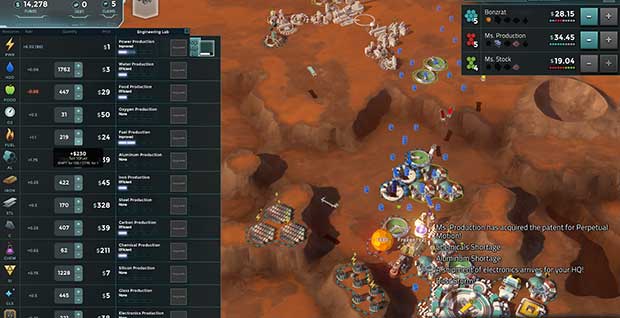 Offworld Trading Company [official site] is the combat-free, trading-centric sci-fi RTS from Soren Johnson, best known as the lead on the beloved Civ 4. It's been kicking around in Early Access for a while now, and both Adam and I rather liked it. If you've been holding off because you fear the unfinished, you may be glad to know that the Mars-set building'n'business game gets itself a full release on April 28th.

Developed by Johnson's Mohawk Games and published by Stardock, Offworld concerns a set of rival Eath mega-corps setting up shop on Mars and embarking on a race for resources and cash. You don't have units per se, but instead of focus on buildings, deals, trade routes and buy-outs. If it sounds dry on paper, rest assured that in practice it's got the competitiveness and simmering sense of crisis that characterises a shooty-bang RTS. Your aim is still to crush your opponents, it just so happens that this is done via aggressive acquisitions rather than death-rays.
I'm too much of a yellow-belly to give multiplayer a go, but apparently that's where the real action's at - mutually-assured horsetrading-based destruction.
The full version, which apparently enjoys "refine and polish" over the early access builds, is out on Steam and Stardock's store on April 28th.