Oh Man, More Zombies: Bunch Of Heroes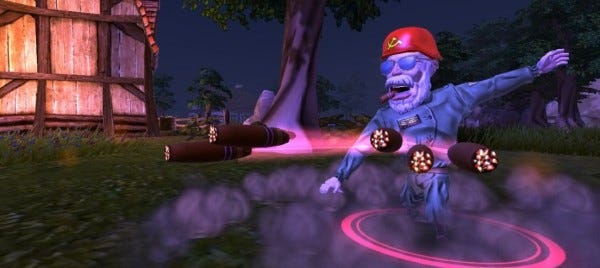 You know Left 4 Dead? 4 player co-op zombieshoots? Imagine that from a top-down perspective, with over the top cartoon artwork and the zombies assault being masterminded by aliens, and I suppose you kinda have Bunch of Heroes.
The download-only title was announced this weekend, scheduled for summer 2011. Full press release and trailer after the jump. Maybe THIS game will have that feature I want, where a fifth player launches the enemy waves and tries to bring down the players with tactics and timing and... no? Probably not? Ah, well.

Buenos Aires – (October 29, 2010) NGD Studios, an independent game developer and publisher based in Buenos Aires, Argentina, announces first entry into the action games space.

Bunch of Heroes is a humorous 4 player cooperative top-down shooter for the PC. The game sets a super team of Earth's warriors against an Alien invasion and their Zombie Army.

Play as Agent Liu, Jared Joe, El Comandante or Captain Smith as humanity's last line of defense. Survive by any means wielding a huge arsenal including flame throwers, rail guns and gravity bombs. Or charge over-the-top super powers that will annihilate your enemies! Cooperate online with up to 4 players, level up and improve your attributes & skills.

Bunch of Heroes features stylized cartoon artwork, retro inspired music and cutting edge technology mixed with great humor to inspire zombie and Alien haters all over the world!

Based on the new proprietary engine Perfection, Bunch of Heroes started as a spare time project at NGD but quickly grew into full production once the team realized its potential. "This is what's great about independent studios, there's always a chance to come up with something new. We hit the motherload with the Bunch", said Leonardo Benaducci, Lead Engine programmer and father of the Perfection Engine.

"Like with Regnum Online, we are proud to be able to work in games our team loves. It's the only way to make internationally outstanding products in Latin America,", said Andrés Chilkowski, General Manager of NGD Studios.

Bunch of heroes is slated for a Q2 2011 release for PC on major digital content delivery platforms.

Become a Hero, Earth needs a bunch of them at least!
Cynical as I am, I adore that last line. Earth needs a bunch of them at least!