Oh My Goodness: Super Crate Box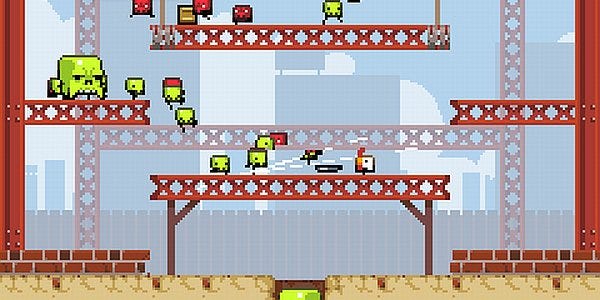 So it turns out you all need to put at least half an hour aside this Friday. Why? Because that's when indie freeware title Super Crate Box is released. Dutch devs Vlambeer sent us a preview build, and it's inspiringly competent stuff. You know condensed milk? Super Crate Box is like that, only with fun instead of milk.
You can watch a video beneath the jump, but the set-up is as follows: Collect crates to increase your score, avoiding the enemies that never stop dropping from the ceiling. Each crate equips you with a randomly determined, nuanced weapon, and if an enemy makes it to the hole at the bottom of the level they drop back out of the ceiling in a new, nightmare-fast form.

If you're a dab hand at papercraft, Vlambeer are currently hosting a competition to win a surprising wealth of Super Crate Box merchandise. Go have a look, if it sounds like your sort of thing.