Omigod Omigod Omigod: Beyond Good & Evil 2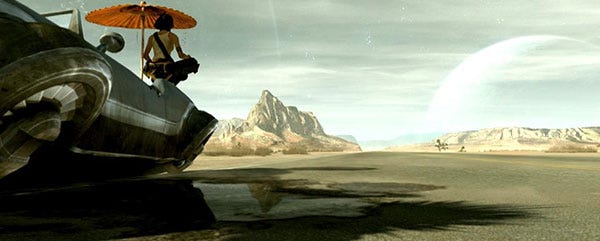 The rumours were true. Beyond Good & Evil 2 is go. Repeat: Beyond Good & Evil 2 is go. Woowoowoo!
An extremely confident, pig-laden teaser trailer waits for you beneath the cut, like a lost lover suddenly returned.
Happy days, non?
Absolutely no information yet though - it's not even been officially referred to as BG&E2 so far, simply Michel Ancel's next project. Who cares what it ends up being called, though? Just look at it. There are vague reports this footage is in-engine, which I'm not sure whether to believe - but if so, blimey. This might just be the best gaming news of the year. Not simply because BG&E was a lovely game, but because the odds of Giant Megacorp Greenlighting Sequel To Commercially Unsuccessful Cult Classic seemed so very, very remote despite the persistent rumours of Jade's return. Turns out the world's not such a terrible place after all.