On The Beta Track: Path Of Exile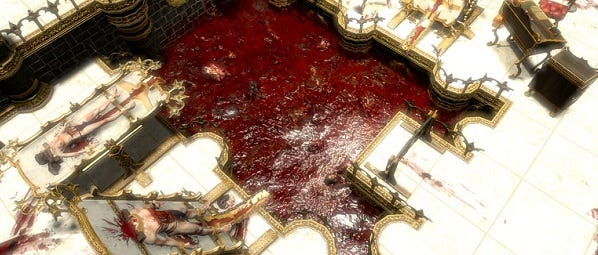 We last wrote about online-only, free-to-play ARPG Path of Exile in April and it was already looking like an interesting proposition. It's in closed beta now and there's a terribly agonising countdown clock on the website to inform the world of when another lucky player will be allowed in. It's like a cruel competition that I never win. Has anyone had any luck and if so can you bring back any reports from the entirely lootable dark and gritty world (that's the official description) in which you have found yourself? There's several feature length films worth of beta footage after the jump as well as a trailer for the Templar class.
It looks a lot like Diablo the first in 3D. Unlike Blizzard's new offering and Torchlight, wherein puppies and unicorns are the order of the day, Path of Exile is set in the kind of world where a rainbow would probably be covered in spikes and blood. And it would growl at you and actually be an angry yet multihued demon-faced skybastard, not a rainbow at all.
Despite having a PVP element, the developers have repeatedly stated that though free-to-play this will not be a pay-to-win game. Instead, it's a pay-to-be-pretty game, with a raft of aesthetic options available for a bit of coin. This is particularly impressive given the apparent depth and customisation offered through the skill tree. It would have been easy to lock off pathways and combinations behind a wall penetrated only by a credit card, but that's not the case. The whole twisted skill tree, which is more web than tree, is available to everyone. There's a picture of it here. I don't know whether to be impressed or intimidated. Both, most likely. Intimipressed. Or terrifroused.
Although there is a class system, with six to pick from, every character can unlock the skills of his or her choosing. Different classes are more suited to certain paths (of exile) but they're not locked down. The level cap is currently set at 100, which sounds like a lot. Obviously, it's not necessarily a lot. It's an arbitrary number and if it takes two minutes to earn a level, 100 is suddenly an exceedingly rubbishy arbitrary number. But fear not. Grinding Gear claim that it'd be possible to improve a single character "for years on end".
If you sign up for the beta now, you could still get in before it opens up to everyone in the near future. The people picked for the closed beta are being randomly selected from all those who signed up. No first come first served here.
Oh, and here's that beta footage. I'm not going to pretend I've watched it all so hopefully it doesn't contradict everything I've written.