One Night Stand Simulates That Awkward Morning After
AKA Millenial Romance Simulator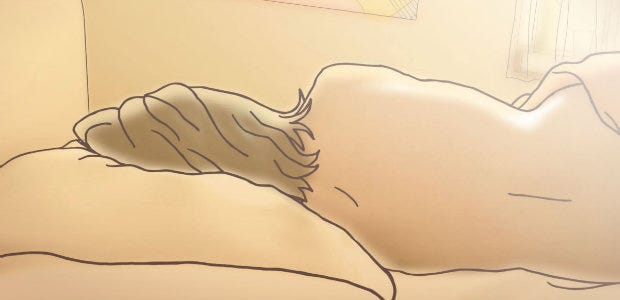 If you've ever had too much to drink and woken up in a strange bed with no frame of reference, One Night Stand [official site] will ring some bells. Or if you played its original free version. The visual novel by kinmoku was originally created for the NaNoRenO game jam in March, but now you can play the expanded commercial version with new artwork and animation, new endings, and additional music.
One Night Stand was created in Ren'Py, the popular visual novel engine. Although Ren'Py-based games sometimes draw criticism as being too one-dimensional, the custom animation and artwork in One Night Stand looks incredible. The developer was able to use rotoscoping to great effect, and it's another example of how great the technique can look when done right. It's extremely fluid, but not off-putting.
The game is only about 25-35 minutes long, but getting all 12 endings will take a couple of hours, and I think One Night Stand is definitely worth the $2.99 price of entry. If you're down for some awkward, well choreographed, visual novel action, then you can get One Night Stand now on Game Jolt, Itch, and, from November 8th, on Steam.