Orbit: A Minimalist Platformer Inspired by Knytt, Drone Music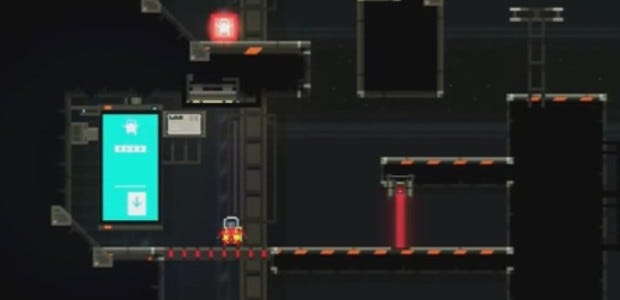 Part way through this trailer for Orbit, a side-scrolling platformer about exploring a space ship, I noticed the particularly fine pitter-patter sound effect of the main character's feet. The whole game sounds lovely; low drones and cavernous rooms and squeaky machinery and laser fields. "I wonder if it's made by a sound designer," I thought.
It is. I'm proud enough of myself for deduction that you should reward me by watching a video of it, embedded below.
Can a platformer survive in this frightening, modern world without an immediate hook? Orbit doesn't seem to be about controlling time or creating clones, but it does embrace the simple satisfactions of jumping and dashing. I wonder if that's enough.
There's more to draw you in from the email I received about it, mind you:
The game is super minimal, inspired by our love of drone music, sci-fi and games such as Another World, Knytt and Dark Souls. We're attempting to make a platformer with open level design housing a lot of player options, I'm a big Thief fan and that series' approach to level design has formed a bit of a template with Orbit.
Orbit doesn't seem to have a website yet, but you can keep up with the game, I guess, by following it on Twitter.
Bonus video, a "cancelled" joke game from the same pair of creators called Waiting In Line 3D: