Orcs Must Die's Magic Interactive Video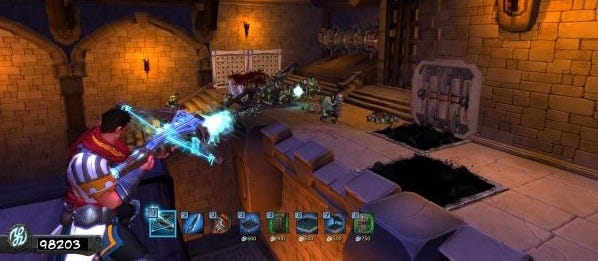 Robot Entertainment seem to realise that if they're going to tell us that Orcs Must Die, they damn well better give us plenty of ways to make that happen. They could have gone a different route and cast the player as the orcs pipe-smoking bowler-hatted defendant. Press the left mouse button to say, "Must they though, gentlemen of the court? Must they really?" Instead, they've just laden their tower defence type game with all manner of traps and have decided to show some of the various ways that orcs will die in this enjoyable interactive trailer. It's like playing Heavy Rain but with green humanoids instead of red herrings.
Worth nothing that when you click those interactive bits you'll be taken away from RPS and find yourself in the Youtubes. Don't worry though, you can come back afterwards. We won't go anywhere.
The game is out next month and while it probably won't be the most complicated killtoy around, it looks enjoyable enough. And it makes a change from zombies.