Ori And The Will Of The Wisps Feeding Grounds: how to hide from Shriek
Don't get caught in her talons!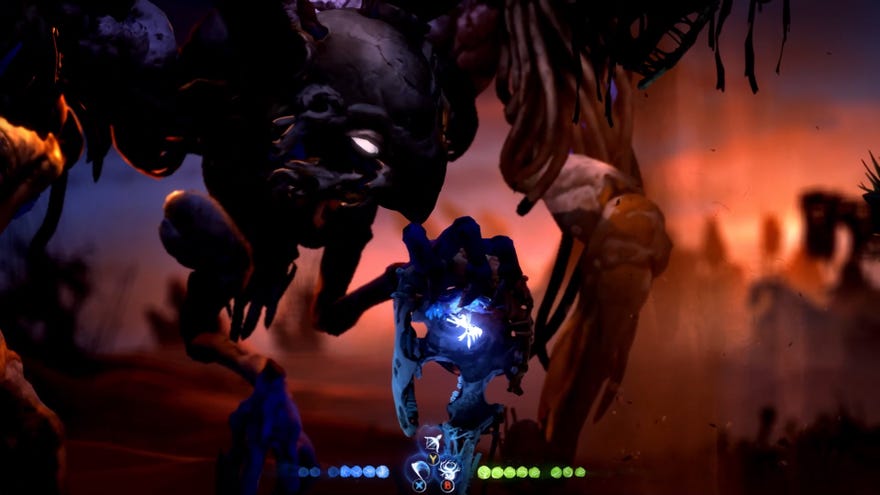 You've likely seen Shriek already in Ori And The Will Of The Wisps, but this big bird is out for blood. Entering the Feeding Grounds area, you'll soon have to sneak your way past this massive bird before it sees you. It's surprisingly more difficult than it sounds.
Ori And The Will Of The Wisps Feeding Grounds guide
This part of the game is one that certainly caught me off guard when I first came to it. When Ori first comes to the Feeding Grounds, a twig will snap underneath, putting the Shriek on high alert. She can't really see Ori while he's behind cover, so you need to dash in short bursts to the next point of cover before she sees you.
There is an audio cue indicating how much time you have left that can be best described as breathing out with greater intensity. If Shriek sees you, she'll take off and swoop shortly afterwards, killing Ori on the spot.
The video above does go through this section step by step, but there are also some text instructions below:
From the cover, head for the grapple point and latch on.
Drop down and float up to the pole. Climb about halfway up to shelter behind the canvas.
Jump to the ledge on the left, then jump far to the left and grapple onto the moss. Hide behind the canvas here.
Clamber up and run as fast as you can to the right. Shriek will drop down to the ground and the rocks will crumble. Jump off the ledge to the right to end this section.
Ori And The Will Of The Wisps guides series
Now that the terrifying stealth section is behind you, you can soldier on with the rest of the game. There are more guides readily prepared below that cover all sorts of things, from the locations of life and energy cell fragments, builds for Ori's skills, and tips for other boss fights/chase sequences.
Bosses