Orwell is going free for keepsies for another few hours
Freedom is slavery but free games are just chuffing great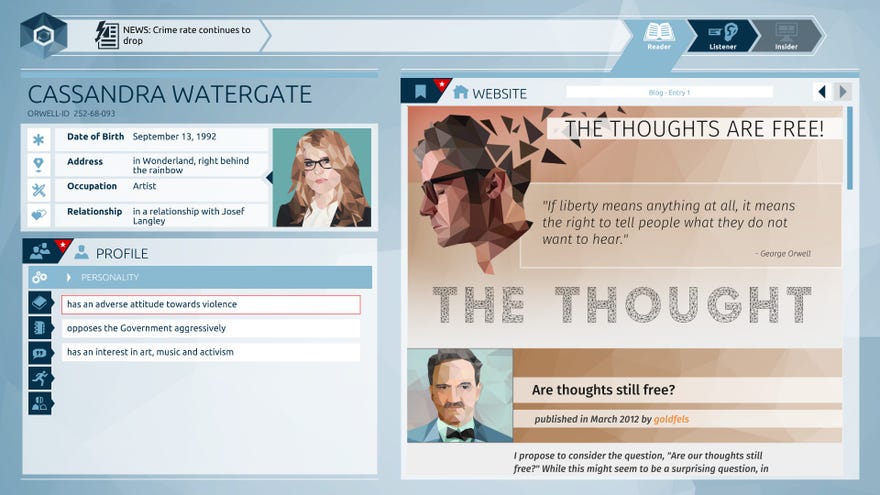 Almost as if they want you to install their software as a backdoor to r00t your b0x0r and spill your secrets to The Man, Osmotic Studios are giving their dystopian surveillance 'em up Orwell: Keeping an Eye On You away for free for keepsies right now (again). Nab it on Steam to register it to your account within the next few hours and it'll be yours forever. For free, absolutely get in and start investigating dissidents, citizen.
So! Here we are, an agent of The Man, given unprecedented access to snooping software in the wake of a supposed terrorist attack. We poke around people's Internet history, their messages, security footage, and all that to uncover the truth - and decide what we want to present as the truth. Our reports decide the official record and response, see, and we have leeway to bend the story in certain directions by presenting specific evidence.
Our John recommended the game in our Orwell review back in 2016 and, more recently, Dave asked have you played it?
"It's not very long, the five chapters that originally released episodically take only a few hours in all," Dave said. "But the web of information that unravelled before me when I first played was fascinating and captivating. Not everything you see on the internet is what it seems and this game definitely made me see the internet in a very different light."
I believe you've got until 5pm, maybe 6, UK time to grab this. Hop to! Click the Install Game button on the Steam store page and it'll be tied to your account forever. You needn't install it right now, just be logged into your account, so you should be able to do it from a phone or work PC or such too.
Alongside this, Orwell's 2018 second season Ignorance Is Strength is on sale right now. A 40% discount brings it down to £4.31/€5.99/$5.99 on Steam until Monday the 8th. That's enough time to play the first season and see if you dig it, then.