Snag a copy of Outcast: Second Contact free on Humble today
Second time's the charm, and free too!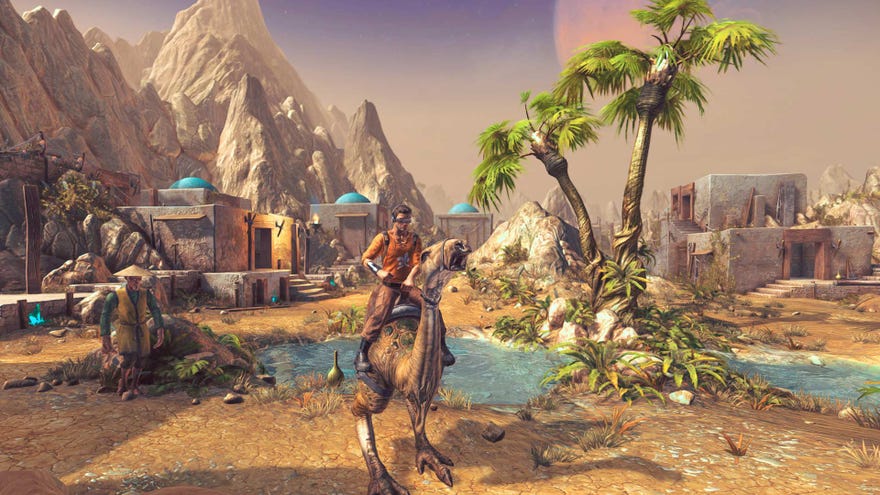 Who needs sales when people keep giving away neat stuff for free? Coincidentally reviewed by Alyse Stanley here exactly one year ago, Outcast: Second Contact is an exceptionally faithful remake of Appeal's Stargate-inspired open world action-adventure Outcast, first launched in 1999. Some argue that the remake is authentic to a fault, but I reckon that whatever flaws that may imply, this is still the best way to experience an important piece of games history. Grab the game, DRM free and yours to keep here on Humble (open for the next 48 hours), and check out the trailer below.
Update: Humble's page says that the downloads will be disappearing on November 29th, so make sure to download it and stash it away before it vanishes into the ether.
If you've never heard of Outcast before, just imagine Stargate SG-1, starring a slightly off-model Jack O'Neill, improbably named "Cutter Slade". He's stranded on a weird alien planet, being called a prophesied hero by a local clan of resistance fighters, and is quickly pressed into service in fighting against an oppressive totalitarian regime. He really has no time for any of this alien mystical mumbo jumbo, but if there's clear-cut bad guys to shoot for trying to shake down the locals, he's okay with that. He doesn't understand science, or space-magic, but he's pretty good on guns.
Mechanically, imagine Far Cry mashed together with Morrowind and you're halfway there. There's running, jumping, lots of shooting and hoarding resources to gather to level up your weaponry. It contains a lot of what you'd expect from a modern-day open world game - impressive considering it's nigh twenty years old. So trailblazing was the original that it even used CPU-crushing voxel graphics to render its world. Fortunately the remake is all polygonal and friendlier on the hardware, but retains much of the look of the original. I'm still not sold on Slade's new face, though.
Outcast: Second Contact is DRM free and yours to keep so long as you grab it on Humble before 10am Pacific Time, November 24th. That's 6pm GMT, this Saturday.