Overwatch enters Blizzard World, grabs souvenirs
Dress swish, ride rides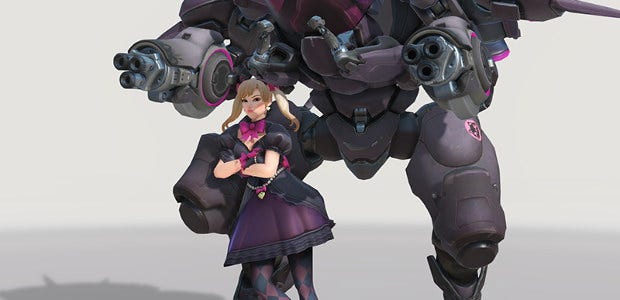 Ah, Blizzard World! Take the family, shove the kids in front of someone in a plush orc costume, get hammered on spacegrog and ride the coasters until you hurl, then visit the gift shop on the way out. Overwatch's new theme park level has finally arrived in the main version of the game, following a stretch on the test servers, and a whole load of new costumes and other cosmetic bits have arrived alongside it. Some characters' new skins are getting into the Blizzard World spirit by dressing as characters from other Blizzard games while others, like D.Va ↑ up there, just like being fancy.
First, Blizzard World itself. It's a theme park smooshing together Blizzard's worlds of Warcraft, Diablo, and Starcraft, a trip across fandom (Blizzard do exist in the game's world, because D.Va was a StarCraft 2 pro). It's an Assault/Escort hybrid map, with an offensive push to capture a point leading into escorting a payload through the park.
The opening of Blizzard World last night was accompanied by long queue times, which sounds like a theme park opening to me.
Holidays are nice but souvenirs last forever. Alongside the new map, Blizzard have added over 100 cosmetic items to the standard crates - skins, emotes, highlight intros, sprays, and icons. You can see new skins in the trailer below, and Blizzard's blog post shows other new bits.