Overwatch Now Celebrating Hot Dunks, As Games Must
Space jamming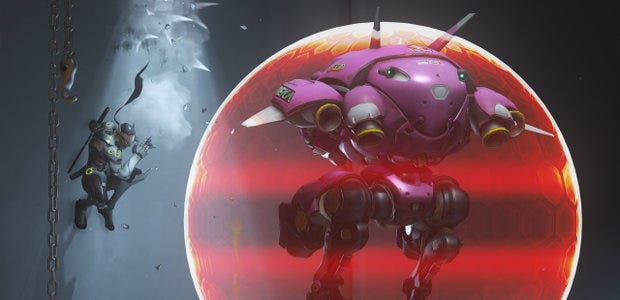 Every first-person game with a basketball and a basketball net should celebrate your hot dunks. That's just science, plain and simple. System Shock 2 knows this, Deus Ex knows this, Half-Life 2 knows this, and Overwatch [official site] has joined these hallowed ranks with a recent update. Successfully knock a ball through the hoop you'll find in several of the game's starting areas and it'll now celebrate with cheers and a shower of confetti. As video games should.
Check out this hot shot by 'dolgo':
Good. That is correct. Blizzard understand video games.
But as nice as the festivities are, some players are unhappy that Blizzard have futzed with the ball physics. Overwatch game director Jeff Kaplan has said, in response to complaints that balls are now far too bouncy, "We have a big ball tuning pass coming soon." He added, "Unfortunately, I am totally not kidding."
I do enjoy the contrast between the po-faced twaddle and warlore Blizzard aspire to in their animated shorts, the silly things characters actually do in-game, and the goofy fun fan art I see on Twitter every day. As I understand it, they're all super-friends and they get up to lots of playful teasing and pranking and eating Doritos and heavy petting. Now they're playing with confetti together.