Kill 'em all! Overwatch launches deathmatch modes
Ignore objectives, murder everyone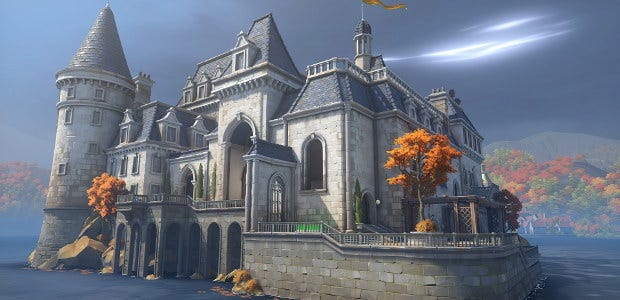 If your denim vest is covered in patches such as "Teamplay? No way!" and "My other jacket is #1, you ruddy scrubs" and lots of skulls and crosshairs, good news: Overwatch [official site] now has deathmatch. Two new eight-player modes cast aside objectives and let players focus simply on murdering each other for points. Along with free-for-all deathmatch, Blizzard's multiplayer FPS now has 4v4 team deathmatch.
Now that deathmatch has graduated from the public test servers to full release, it's time for something new to be put through its paces. New map Junkertown is now in testing, if you fancy a go early.
So, deathmatch! Kill people to score a point. Kill yourself to lose a point. Hit 20 points and you win. Same goes for team deathmatch, though points are for the team and the frag limit is 30. That's it. It's deathmatch, yeah?
Overwatch's deathmatch mostly goes down on cut-down versions of existing maps, though Blizzard have also created a new deathmatch-only map, Château Guillard. That's a fancy lakeside mansion, the ancestral home of naughty sniper Widowmaker.
Hit the patch notes for full details on everything.
If this patch's download size seems a little large to you, know that it's to reduce future download sizes. Blizzard explain:
"Over the past few months, we've been working on a number of significant under-the-hood changes that will help us streamline the patching process. This will allow us to reduce the download size in future patches, but it does mean that today's patch is larger than a traditional patch."
As for Junkertown, slam the test servers and you can romp around the scrappy city that Junkrat and Roadhog formerly called home. Blizzard are also still testing the huge changes to Mercy which turn her resurrection 'ultimate' skill into a regular skill and replace it with a new skill giving her megabuffs.