Overwatch Reveals The Last Bastion Animated Short
The... Lastion?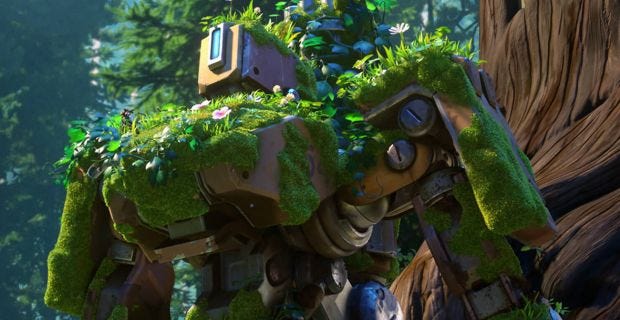 Overwatch [official site], the first-person shooter you don't deserve, has produced another one of its animated shorts. These videos tend to dip into the lore (such as it is) and come out with silly fights across rooftops or flashbacks featuring tiny Gorillas. This time they are focusing on lovable murderbot Bastion. And it's a little bit Pixar.
It's not the only thing Blizzard have revealed while Gamescom has been going on. There's a new map, called Eichenwalde, set in a German castle. Many characters will be getting buffs, nerfs, tweaks and emotes. And now if you type "gg ez" at the end of a match, you are treated like the numpty you are by an automated process which turns your bilious boasting into another phrase entirely.
The first season of competitive play has also now ended. This mode will undergo a bevy of changes, we are told, in time for Season 2. Your score will no longer be on a range of 1-100, said designer Jeff Kaplan in a development video, but lie on a scale of 1-5000, to give people a greater sense of progress or loss by seeing their score go up or down, not by fractions but by whole numbers. There are a lot of other changes, which Pip has already covered here.