Overwatch's next co-op event revisits history
Round up your pals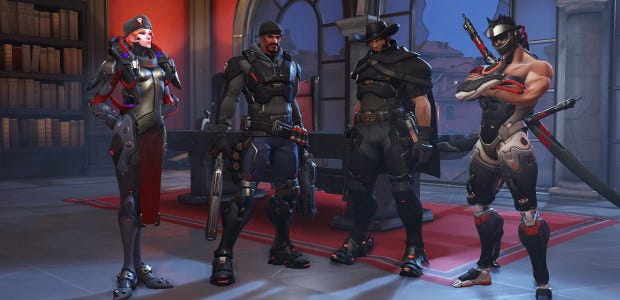 The next cooperative PvE event mission for Overwatch will travel back in time to Venice and what I'm told is "a critical Blackwatch operation that ultimately led to the fall of Overwatch." Arriving next Tuesday, April 10th, Retribution will see McCree, Moira, Reyes (pre-Reaperisation, as Soldier: 24), and Genji fighting through the streets and along the canals to escape Talon. New skins are coming too, of course. And this is the first taste of the Venetian new map, named Rialto, which will be coming to the regular game as an Escort map soon. Here, watch the trailer setting up the story:
Retribution will be available run April 10-30th. The official name for this event is now 'Overwatch Archives', a banner uniting seasonal story missions. Blizzard are retroactively rolling last year's Uprising into this, and Uprising will return for this year's Overwatch Archives event too.
Along with the Story Mode starring McCree, Moira, Reyes, and Genji, Retribution will have an All Heroes Mode that's wave survival with whichever character you want.
The PvP version of Rialto, which is set during the daytime, is coming to the public test servers "soon."
Shiny-wise, Overwatch Archives will bring Archive Loot Boxes with 160-ish items, including 8 new Legendary skins and items from ye olde Uprising.
Oh, a new Overwatch comic leads into all this, for loreheads. As with other hunks of Overwatch's story, it's grimdark growling totally at odds with the game's goofy goodtimes where all the characters are secretly dating.