Oxygen Not Included drifts onto Early Access May 18th
Chaotic colonies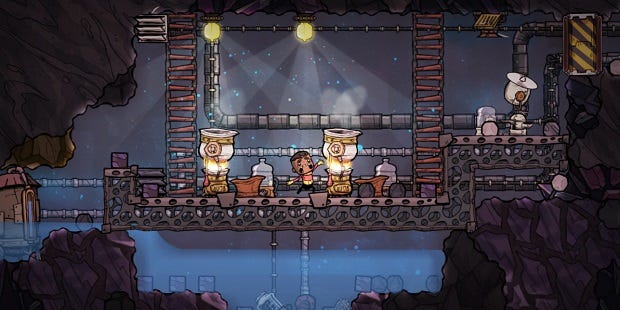 Klei are the developers of Invisible, Inc., which is the best turn-based game since Chess. It stands to reason, then, that I'm always going to be interested in their releases, and Oxygen Not Included [official site] has had my interest since I first heard about it. An alpha has been sold for a while but the space colony management sim is moving to the next phase of its release, entering Early Access, on May 18th. The best way to learn about Oxygen Not Included is to look at Brendan's Premature Evaluation article, which contains very little oxygen but large quantities of piss.
The game will be in Early Access "well into 2018", say Klei, with updates aplenty along the way. For example, the first major alpha update, Thermal Upgrade, added "new items, advanced temperature systems, Duplicant customization and a new icy biome to exploit and explore". You can see in the video below.
Though the perspective is different and the graphics have a resemblance to Klei's own Don't Starve rather than @scii, there are some similarities to the complex simming of Dwarf Fortress. There's also a similarity in the chain reaction of disasters that can unfold when production, storage and life management collide in spectacular fashion. Spectacular pissy fashion. Here's the culmination of Brendan's dysfunctional sewage system.
"All these crises culminated and Yellow Water soon descended into absolute piss carnage. Stress levels among the colonists sky-rocketed and a man called Grub began to vomit from the anxiety of living in such a stinking yellow hell. Snores O'Duggan, a man who slept apart from everyone else because he snored so loudly that it kept the others awake all night, began to destroy batteries throughout the colony in a blind rage, systematically disabling filters, air pumps, the distillery and the mush machine. Even in the dark and quiet nights, piss dripped down from the sleeping quarters, going from level to level before finally getting into the water supply."
I don't think I've ever built an efficient colony/fortress/station in one of these games. Even my Cities: Skylines urban planning often leads to dismal disaster, such is my ability to waylay even my best laid plans. Failing is a learning experience though, and that makes me the best educated manager in the business. I look forward to further lessons in space suffering.