Patching The Apocalypse: New Project Zomboid Alpha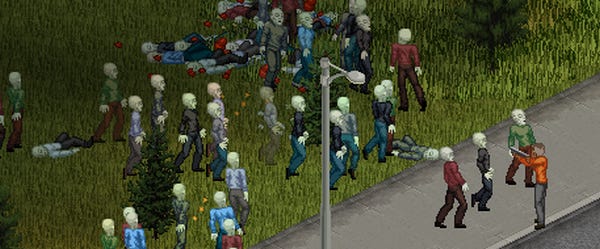 Project Zomboid developers The Indie Stone aren't have-and-have-not types. They're more egalitarian in their views, and have just released a newly updated public version of the Project Zomboid alpha for everyone. This is actually a test-build of the public build that's being worked on, with a full, working release incoming in 'a week or so' - that'll have story-based content reinstated and a working launcher. As such this is a somewhat crippled version of the game, as the lengthy list of troubles you can expect demonstrates, but they're releasing it in the knowledge that a) you know this to be the case, and b) zombies!

Usually I'd link to an amazing video, showing off something so exciting that you can't possibly do anything but hit the comments and thank me for brightening up your existence, but as this is an isometric in-development indie game, such Youtubery is thin on the ground. It is an excellent game, but that comes across at three in the morning when you realise that the muscles inbetween your shoulder blades are making a sad face. A difficult thing to capture in video form. But the Zomboiders are cracking open the chest of their game development process, and letting us all see the layers and layers of gristle and guts. Behold: a video about mouse control!
No idea when it's out, but you can access the Alpha and all future updates for £5 right now.