Obsidian's Pathfinder card game coming to PC
Let's roll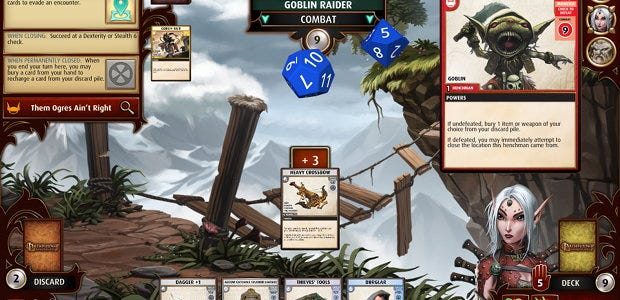 Obsidian Entertainment, the makers of Alpha Protocol and Pillars of Eternity, have announced they're bringing Pathfinder Adventures [official site] to PC on June 15th. Pathfinder Adventures is a card-driven RPG they released for pocket telephones in 2016, which is an adaptation of the physical Pathfinder Adventure Card Game, which is itself based on the Pathfinder pen & paper RPG. In short: Pathfinder Adventures has cards and dice and you get to fight goblins. Paths are being found all over these days, as both an MMO and a singleplayer RPG are in development too.
Pathfinder Adventures is a deck-building RPG, with gear and spells on whatnot being cards you build into a deck. Then off you trot out on adventures, rolling a few dice on the way. For a more technical look at it all, here, this vid shows Obsidian folks playing through the tutorial of the pocket telephone version:
"I've always loved the way Pathfinder Adventure has brought what I enjoy in tabletop RPGs to card games, and I am very proud of how we have captured the depth of the game, while adding in options to expand upon the experience for both newcomers and lovers of the tabletop game alike," Obsidian CEO Feargus Urquhart said in yesterday's announcement.
Hey you, pocketeers, is it any good?
Pathfinder Adventures is coming to Windows and mac via Steam, GOG, and the Mackenzie store on June 15th.