Payday 2 checks back into Mercy Hospital in the middle of Crimefest
Clowning around is infectious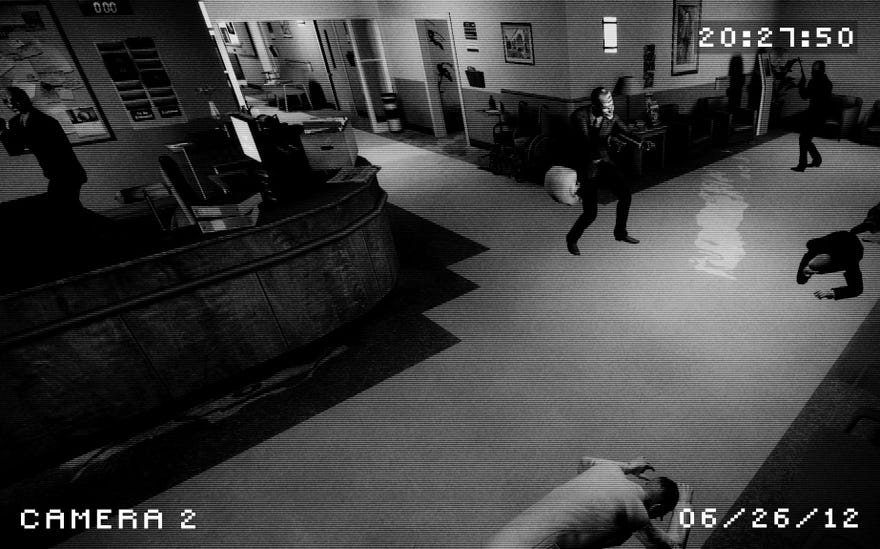 It feels like Overkill's anarchic cop-smashing shooter Payday 2 has gone off the rails in the best possible way. It used to be a game about robbing banks and jewellery stores. Now it's a crossover with a half dozen film universes with an overarching plot that's gone a little Da Vinci Code, now with nukes going off and mercenary armies to fight. Today's update (part of their annual Crimefest community event) brings back the No Mercy heist, a Payday 1 map set in the hospital from Left 4 Dead, upgraded, remastered and given fresh new context. Plus, the game is super cheap right now.
While Crimefest events are a high point for Payday 2, this one feels especially fancy. Each day is accompanied by a mix of live-action story bits, newspaper clippings and audio logs posted on the Breaking News page here. We're on day seven of eight now, but on day five a nuke and a mysterious storm blew up an Egyptian pyramid - a very normal thing to happen in a game about stealing money with malfunctioning drills. Last Friday saw the release of a jailbreak mission, where players fight a private army to rescue guy-on-the-radio Bain, captured in an earlier story mission.
While the majority of content from Payday 1 had previously made it over to Payday 2 (making it a very large game indeed now), the No Mercy mission was one of the few missing pieces. Today's updated version features a few new twists, new voicework and new story context, tying it into the events unfolding in the broader, messier plot arc. This Crimefest has also introduced a bundle of new weapons plus almost all previous safes (the game's loot box equivalent) have temporarily returned for a chance at some older cosmetics, if you don't mind some grind.
My question is how much longer can Overkill keep this going. Payday 2 first launched in August 2013 and has grown ever since. There have been quiet periods, but this year has seen an explosion of activity, especially on the story missions front. Between the dozens of maps with randomised elements, higher difficulty settings drowning the player in special enemy types, multiple ways to play and now full VR support (which I've heard is excellent), Payday 2 has become bigger, better and weirder than I ever could have expected.
Payday 2 is discounted for Crimefest on Steam, and is £3.74/€5/$5 for the (rather limited) basic version. The Ultimate version including all current and future DLC (minus one piece of YouTuber cross-promo fluff) is £8.54/€11/34/$11.34. The discount lasts until November 5th.