Payday 2's latest heist is a Reservoir Dogs crossover
Stuck In The Middle With You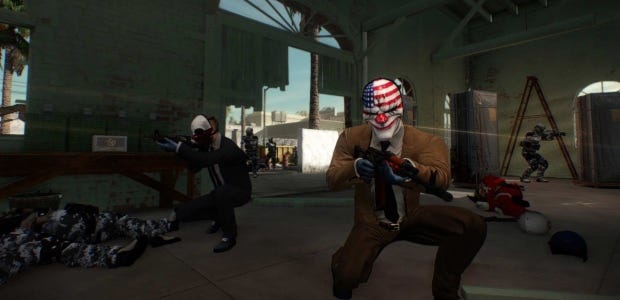 It's been a rollercoaster year for co-op hypercrime FPS Payday 2. After a gutsy decision in summer to give away five million copies of the base game for free, a re-launch as the Ultimate Edition heralded the end to the piecemeal DLC model of the game in favour of a single purchase of the new Ultimate Edition getting you all but the most questionable cross-promotional content for the game.
There's been several free updates for the game since the re-launch, but the most exciting of the year has been saved for last. You might want to dust it off for another round, because the latest free update has brought a positively nostalgic heist to the game, in an official crossover with Reservoir Dogs.
Befitting a Tarantino tribute, the two-part Reservoir Dogs heist begins at the end, after everything has gone unbelievably badly wrong. In this parallel universe, the Payday gang (always consummate professionals, even if their body count is high) swoop in at the last minute to make sure that things don't end in a bloody and self-destructive mexican standoff, but things are still pretty messy.
Once the aftermath is all wrapped up, the game cuts back to the main event. The gang are in LA to assist in the iconic diamond store heist from the movie, and for the most part things go smoothly, but the final bit of radio chatter may be an exciting little twist for veteran Payday fans. Your long-time mission co-ordinator Bain thinks he's finally close to something big, but you lose contact with him just after he puts you under the command of South African mercenary-turned-career criminal Vernon Locke.
If the dialogue in this heist is to be believed, this may signal the possible beginning of the end for Payday 2. Bain's disappearance seems to be building on top of an ARG-spawned mystery that players were picking away at in the run-up to the game's release, but never seemed to quite pan out in the finished product. Now that Payday 2 is back and fully in Overkill's hands, it'll be interesting to see what the next major update to the game brings.
Thinking back, Payday 2 has seen a lot of crossovers since it was first released. A strong argument could be made that now John Wick, Hardcore Henry, Scarface, Point Break and Reservoir Dogs are all shared canon now, with Hotline Miami and Goat Simulator bringing up the flank. I can't help but wonder how much more they have planned before the curtain inevitably falls on this long-lived game.