PC Gaming A Level Question 1: What Is Payday 2?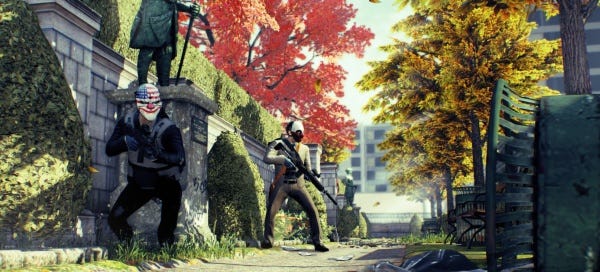 Is the question rhetorical? It's the sequel to that heist game, Payday, isn't it? The real question everyone should be asking is why "heist" isn't in spellcheckers. Nor "spellcheckers". And the answer to that initial question... Payday 2 is a bit more of an RPG.
Sort of. It's more customisable, and there's a greater sense of progression as you expand your criming abilities. There's now stealth, safe houses, and did we mention that it's customisable? Yes. Which makes the repetition immediately before stating there's "almost too much to name" something I... cannot... resist... teasing.
So there you go - a lot more to it this time, it seems, and I'm certainly more intrigued than I ever was for the first game. It's currently set for a vague "August" release, so it seems safe to say we can expect that to slip a little.