Perception adds new difficulty modes, extra dialogue
Get ghostmurdered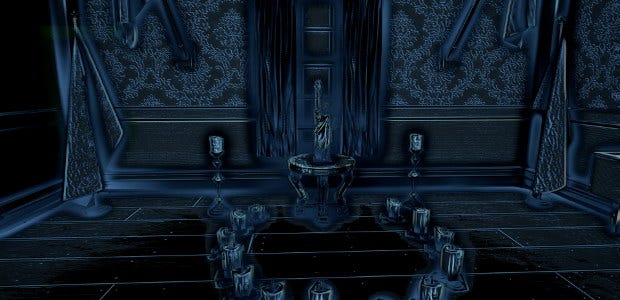 A post about Perception? Today? A spooky game? On November 1st? When the pumpkins are already rotting on the doorstep? Hey buddy, to me every day is Halloween. And I am always interested in exploring a haunted house as a blind woman blessed with magical echolocation powers. While Perception didn't quite come together, as Adam said in his review developers The Deep End Games have returned to overhaul and revamp it a little. They've launched an update adding new difficulty modes -- both easier and more difficult -- while expanding the story a little and improving performance.
For people who simply want to explore the ghost house, Story Mode removes the threat of dying. Or if you want ghosts to do a number on you, Scary Mode makes the nasties more aggressive, lowers your health, and removes the checkpoints. For plain old Spooky Mode, the original setting, more frequent checkpoints have been added so Cassie won't restart chapters from the start if she gets ghosted.
The story is touched up too, with "dozens" of new lines written for several characters, and bits tweaked to make the second chapter and the ending clearer.
All in all, a decent update for players across the spectrum? Hit the patch notes for more details. Does this do it for you, gang?