Permit Their Perjury: Sleeping Dogs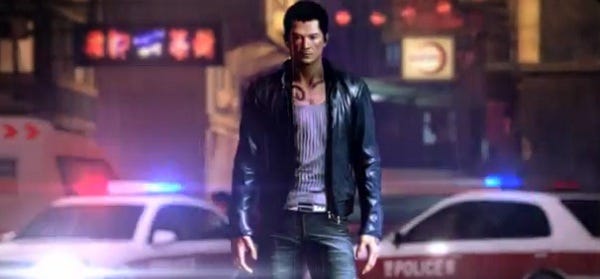 Men speak in cliches and then punch each other in this trailer for the reawakened True Crime: Hong Kong, now going by the name Sleeping Dogs. My experience of sleeping dogs is that they sometimes chase imaginary rabbits, which makes them try to run while lying down. That's funny and cute. I don't think it's what Square Enix want me to imagine when I think of the game though. They want me to imagine a serious man saying 'honour' and then repeatedly hitting a vest-wearing collection of tattoos in the testicles with a meat cleaver.
I played one of the True Crime games once for about five minutes and all I remember is that I was punching people in a prison. There's no prison in the trailer but there's plenty of brawling and bone-crunching finishing moves. There's also some driving, which means that the majority of comments I've seen have been along the lines of "NOT AS GOOD AS GTA", "GTA IS 2SERIOUS, SAINTS ROW RULES", "I HATE ANSWERING MY PHONE" and it's then that the repute of everybody's mother is called into question.
The fighting, with improvised weaponry and long talky bits in between, looks more like Yakuza to me, but what do I know?