PES 2018 should not suck on PC this year
At last?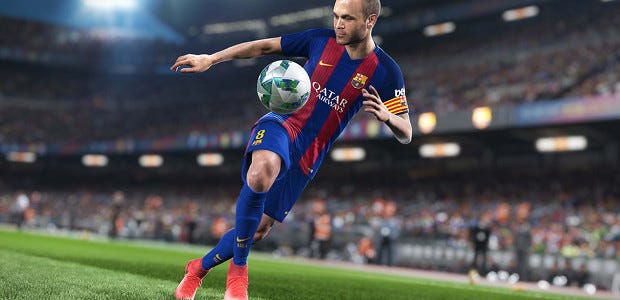 Maybe, just maybe, 2017 will be the year Pro Evolution Soccer is good on PC too. After several years of mugging us off with PC releases similar to the last-gen console versions, Konami have announced PES 2018 [official site] and declared this time it'll be different. They've promised the PC version will have "substantial enhancements in graphics and content, meeting quality standards and ensuring parity across current game systems." At last! PES is some good ballkicking but PC versions have been shoddy enough that resident ballboy Adam recommended you play on console if possible. The game's due this September. For now, check out this wee trailer:
On the pretty-pretty side, changes include improved animation, better lighting, and player models whose kit should now actually fit. Given the state of our PES 2017, 2018 looks like a big step up.
As for the actual ballkicking, Konami say in PES 2018 it's "finely tuned and refined to recreate the authenticity of the beautiful game, including a more realistic game speed." The blurb highlights these features:
"Strategic Dribbling gives the user significantly more control in possession, with the addition of contextual shielding to protect the ball, as well as simple stick controls triggering realistic, subtle movements to wrong foot defenders.

"Real Touch+ adds a new dimension to ball control, with full body touch allowing various parts of the body to control the ball based on the unpredictability of the ball movement.

"Set pieces have been reworked with a new Free Kick and Penalty Kick system, alongside the option to choose the new one player kick off."
It will also introduce online co-op for 2v2 and 3v3.
PES 2018 is coming via Steam on September 13th, priced at £54.99/59,99€/$59.99. That seems an ungenerous UK price but hey, who knows what the pound will be worth come September? Little bit of politics there, ladies and gentlemen.