PES 2019 kicks off in August
Ball ball ball / Footy footy footy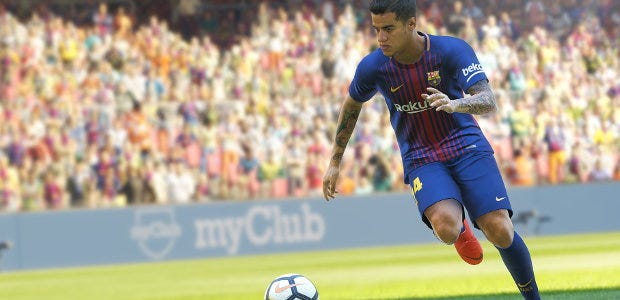 Konami's squad-based real-time tactical series Pro Evolution Soccer will return with its latest annual sequel at the end of August. Changes they're boasting about in the latest include fancier pictures, improved animation, improved ball physics, a dozen new skill traits... ah, y'know, it's the new PES - get this or the next FIFA depending on which you prefer, yeah? For now, watch the announcement trailer below.
Balls.
Given that Konami seem to claim the same features as new every other year, man, I'm not going to pretend I can pick out what actually is new in all their marketing. Let them be hoist with their own petard:
"Fans will be able to experience lifelike player movement making PES 2019's famed superior gameplay even greater as Beckham, Coutinho and more have their unique playing styles brought to life. The game takes player individuality to the next level by introducing a variety of new skill traits that give the player a chance to create Magic Moments on the pitch, which is now the forefront of PES 2019's superior gameplay.

"Finding space in tough-to-break down opponents will take a twist as well with Visible Fatigue, which will impact performance and behaviour. New shooting mechanics will take into account improved ball physics, player and ball position, and player skills and shot styles. Hitting the back of the net in PES 2019 will be more satisfying than ever before with new net physics and celebrations added, teamed with new crowd animations.

"The beautiful game has never looked better thanks to 'Enlighten' software for true-to-life visual effects and 4K HDR across all platforms. Real time 'Global Illumination' lighting and shadows has led to improved in-game graphics with better crowd detail, real grass textures and the return of the incredibly popular snow weather effect.

"myClub will see its biggest revamp to date, as the brand new player card design system leads a series of revolutionary changes to the way players build their squads. myClub players can also look forward to finding High Performance Players, including Legend Players and Players of the Week with temporarily boosted stats based on real world performances."
Go see the game's website for more blarb, yeah?
PES 2019 is out August 28th in North America and the 30th in Europe.