Peter Molyneux's The Trail strolls onto PC
Keep strollin' strollin' strollin'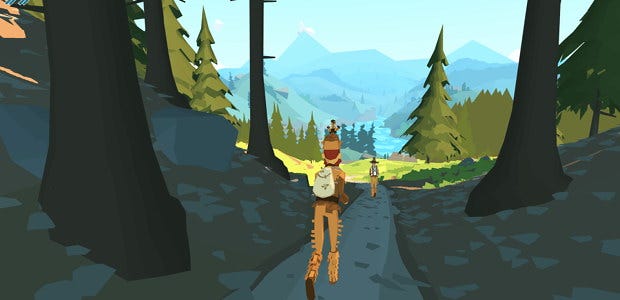 Lionheaded bullfrog Peter Molyneux and his 22Cans studio today launched the PC version of their hike 'em up The Trail: Frontier Challenge [official site]. It's a game where players walk a path across a wild frontier, not to be confused with walking simulators where we get to have a lovely wander where we please. Along the way, folks get to collect stuff, take up a profession, craft, trade, dress up, and build a home. The Trail first hit pocket telephones last year, and has been reworked a touch for PC.
"PC players are looking for a completely immersive and uniquely challenging experience, and I think they will be pleased with what we've created," Molyneux said.
"The gameplay has been developed to be far more strategic; for example, players will now have to balance what they carry in their packs against how fast and far they can travel. Bigger items are heavier and slow you down; smaller items are lighter so you can travel faster."
The Trail: Frontier Challenge is out for Windows and Mac on Steam, priced at £9.89/13,49€/$13.49 with the 10% launch week discount.
Probably don't buy this with an expectation of long-term support. 22Cans' 2013 strategy game Godus and the 2016 fighty spin-off Godus Wars are both still in early access and neither has received a significant update in over a year. The Trail does have the benefit of a publisher, Kongregate, backing it but still, if you are interested I'd suggest buying as-is and treating any updates as bonuses.