Philips 349X7FJEW review: A great 21:9 ultra-wide monitor for Final Fantasy XII
The quest to find the best monitor for Final Fantasy XII begins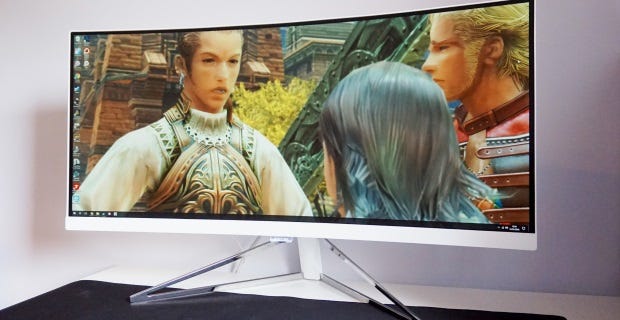 If there are two things I love in life, it's Final Fantasy and 21:9 monitors. It's a select group of interests, I'll admit, but when I heard that Final Fantasy XII was finally coming to PC with both 21:9 and multi-monitor support, I knew what I had to do. Yep, today marks the start of my 21:9 ultra-wide monitor group test to find the best gaming monitor for playing Final Fantasy XII: The Zodiac Age in silly ultrawide mode, and the first monitor on the gambit table is the Philips 349X7FJEW.
While not technically a gaming monitor as such, this 34in ultra-wide monitor is still an excellent candidate for those after a great Final Fantasy screen. You'll need a sizable desk to accommodate its large white frame, deep metal base and height-adjustable stand, but this curved, 3440x1440 100Hz mega beast certainly makes a great first impression.
It has a VA panel rather than IPS, but any doubts over its colour accuracy were soon laid to rest when set my i1 Display Pro calibrator on it. Typically, IPS screens produce the richest, most vibrant colours of all the different panel types out there, but the Philips 349X7FJEW put in an admirable performance, covering an impressive 98.7% of the standard sRGB colour gamut on its default settings (i.e.: the 6500K colour temperature mode with no tweaks made in its onboard menu whatsoever).
That's pretty great for a VA panel, and it means you can use it straight out of the box with minimal fuss. Indeed, when I tried to calibrate its User colour temperature profile, I actually got a worse result (96.4%), and the only other mode available is an sRGB profile that locks everything down, including the brightness, so you'll probably want to stick to its 6500K option for the sake of your eyeballs.
To be fair, it's not the brightest screen money can buy, maxing out at roughly 280cd/m2 by my measurements, but that's still more than enough for everyday use. If anything, it's probably a bit too much, as the sheer size and breadth of the screen can become quite overwhelming when the brightness is set too high. As such, I ended up having to turn it right down to 15% in the onboard menu.
Speaking of which, Philips' decision to put a four-way d-pad on the back of the monitor without any additional side buttons is a bold move on their part, but the menu's still pretty easy to navigate should you need to make any adjustments. There's nothing more infuriating than when monitors put their buttons on the lower bezel and force me to think that right is up, down is left and every variation in-between, so having an intuitive d-pad nozzle is certainly a step in the right direction. Still, given how few adjustments I had to make during the course of my testing, here's hoping you won't have to use it at all if you come to buy one.
Brightness aside, the main advantage of choosing a VA screen over IPS is its excellent black levels, which measured a pleasingly inky 0.13cd/m2 (the closer to 0.00cd/m2, the better). Lower black levels also mean better contrast, and while most IPS and TN gaming monitors will produce a contrast ratio of around 1000:1, the Philips 349X7FJEW came in at 1896:1, giving you more light-to-dark detail for spotting those cheeky treasure chests hidden in the shadows.
Admittedly, my measurement is a heck of a lot lower than Philips' quoted figure of 3000:1, but that's probably because I only had the contrast set to 50% in the onboard menu (its default position). Any higher and colours and text start to look a bit wonky, so I left it as is throughout the course of my testing.
Now, I'll admit I'm not a huge fan of its white chassis, but its office-like facade does in fact hide some surprisingly game-y features. At one end of the spectrum, you've got a 100Hz refresh rate for high frame rate gaming, and at the other end you've got AMD FreeSync support just in case your Radeon graphics card isn't quite up to the task of spitting out 3440x1440 pixels at the usual 60fps.
Of course, 100Hz isn't as high as other monitors out there, but when you're dealing with that many pixels, it all comes down to a question of bandwidth. The monitor's DisplayPort 1.2 and HDMI 2.0 inputs, for instance, are only capable of a 60Hz refresh rate when running at a full 4K resolution (3840x2160), but since this isn't quite 4K, Philips can squeeze a few more refreshes into its bandwidth limit as a result. They could theoretically push it higher, but then something else like the number of colours being sent to it from your graphics card would have to give instead, so it's all a question of balance - and in my eyes, Philips have probably got it just about right.
It's worth noting the 349X7FJEW also comes with an HDMI 1.4 input, but this is only capable of 4K at 30Hz, so you'll want to use the others to get the best out of it. The four-port USB3 hub, on the other hand, is a very welcome sight indeed, especially when one of them also supports fast charging for your phone.
Naturally, only AMD graphics card owners will be able to use its FreeSync support (anyone with an Nvidia card looking to take advantage of adaptive frame rate technology will need to find a screen that supports G-Sync instead), but it does mean the Philips 349X7FJEW is one of the cheaper 21:9 monitors currently available, costing just over £670 in the UK and $650 in the US. G-Sync always adds a hefty premium onto the cost of a monitor, so those with beefy enough Nvidia cards may still want to consider this if you don't fancy spending another £100+ on a dedicated G-Sync monitor like the AOC AG352UCG or Acer Predator Z35p, which I'll also be testing in due course as part of this group test.
A lot of that cost will also stem from the fact it's got a curved screen, too, but this seems to be pretty par for course for ultra-wide monitors these days. This particular screen has a curvature radius of 1800mm, which is more pronounced than the AOC AG352UCG's 2000mm radius, but it's still pretty subtle. Personally, I've yet to see any kind of curved screen that's made me think, 'Why yes, this really is better than a boring old flat one', but when the latter seem to be few and far between in 21:9 land nowadays, I guess we'll just have to lump it and pretend it makes us gain EXP faster or something.
Of course, I won't be able to declare whether this is the ultimate Final Fantasy viewing machine until I've tested all the other 21:9 monitors I've currently got clogging up my office, but I'm confident the Philips 349X7FJEW could definitely be one of the top contenders. Picture quality is great straight out of the box, it's got plenty of ports and its height-adjustable stand means it's easy to set up. Its 100Hz refresh rate and AMD FreeSync support also give it some nice extras for gaming, and it won't empty your bank account quite as fast as its rivals either. I'd certainly be happy to have one on my desk, but whether it's proper Balthier-grade material (he's the best and you know it) is a question for another day. Stay tuned.