Explore (And Die In) The New World With Pioneers
Turn-based exploration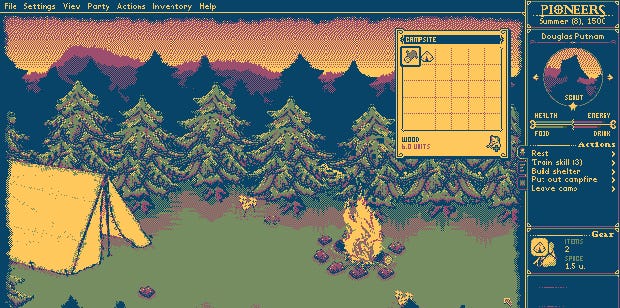 The new world! A whole new world unknown to anyone except all of the cultures who've lived there for millennia and all those who visited! How exciting! Pioneers [official site] is a top-down, turn-based explore-o-survive 'em up about those giddy early days of colonial exploration, with wilds to wander, survival skills to practice, and folks to recruit into a rag-tag adventuring gang. We took a peek at it back in 2013, but that was aaages ago. Creator Eigen Lenk released another free version this month, the first in over a year, so hey! Let's look again!
Pioneers is a forest-roaming, ocean-sailing, camp-building survive 'em up in a retro way. By which I mean "it's got big pixels and lots of menu options but is also kinda fiddly and I got frustrated and stopped but it's fine I think other people might like it a lot but it wasn't quite for me but it's interesting enough to revisit and post about again". Who knew "a retro way" had such a complex meaning? You do now.
I had idly assumed development stopped, so it's good to see a new build. You can nab it from Itch.io, where it's pay-what-you-want with no minimum for Windows and Mac. It brings a tutorial, a 'quick play' option to jump into the wilds, a little intro to the story, makes terrain height change visibility, and more.
Here's Lenk showing the new build off and dying terribly in his own game: